"Send lawyers, guns and money, the **** has hit the fan." – Lawyers, Guns and Money, Warren Zevon (1978)
Imagine that after spending your entire existence striving to avoid human contact you suddenly realize that you're going to have to devote all of your free time to hanging around a bunch of lawyers.
Could this be a major factor in our mystery?
If Bigfoot ever decided to show his face, he'd stand to make a fortune in appearance fees assuming somebody didn't try and shoot and stuff him first. In addition, there could be a hefty windfall from lawsuits over using his likeness without written or verbal consent. Of course, that begs the question of whether or not Bigfoot can speak, read or write, but I digress yet again into potential foolishness.
In reality, however, Bigfoot is big business and a big star, whether he exists or not. His impressive resume includes appearances in advertising campaigns, television shows, movies, music, books, magazines, tabloids, sporting events and web pages.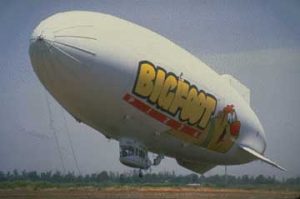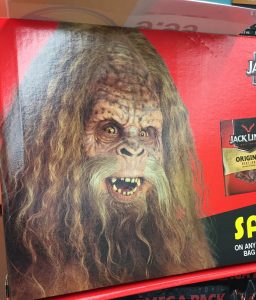 For example, consider this scenario that could have taken place in my neck of the woods over the years. For starters, let's say you and some buddies stop by Pizza Hut to tackle the old Bigfoot pizza (introduced in 1983 and consisting of "two square feet of pizza cut into 21 slices"). To burn off such a mammoth meal you then head for a local golf course to try out your new Sasquatch driver ($89 to $200 on Ebay). After the round you could stop at one of the old Bigfoot Amocos to fill up the tank for the ride home (consult Bigfoot Directories for nearest location). While there, you could grab a soda to pour into your Yeti tumbler along with some Jack Links beef jerky whose "Messin' with Sasquatch" commercials are quite humorous. The product isn't too bad either, just a bit pricey, perhaps on the offhand chance that they'll someday have to compensate their star. Anyway, you get the picture.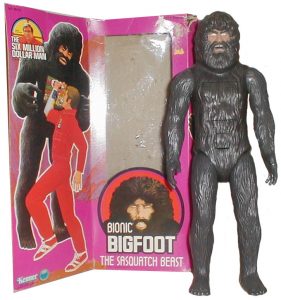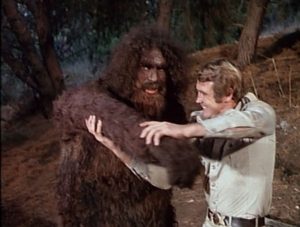 Speaking of pictures, Bigfoot's acting career dates back at least to the 70's. Who can forget Steve Austin, The Six Million Dollar Man, periodically battling Bigfoot (portrayed by Andre the Giant and Ted Cassidy of Lurch fame)?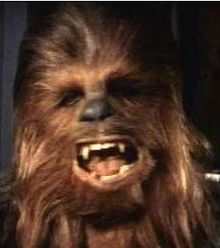 And Han Solo's sidekick was technically a Wookiee, but let's face it, Chewbacca was just an intergalactic Bigfoot while in the 80's, Harry and the Hendersons would cast the furry beast as an animal that was just as curious about us as we were of him.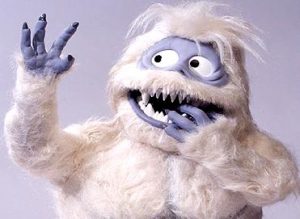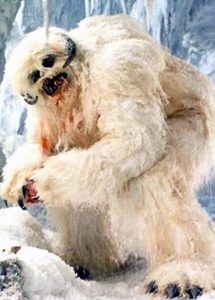 Of course, we can't leave out Bigfoot's Himalayan cousin, the Yeti or Abominable Snowman. A highlight of his movie career is the 1964 stop motion animation classic, Rudolph the Red Nosed Reindeer. It seems that the Bumble (or Abominable Snow Monster of the North) was originally a bad guy but changed his stripes after Yukon Cornelius and Hermie the Elf pulled his teeth or something. Later, the Star Wars series appeared to give another shout out to ape-like monsters with the ice cave dwelling Wampa in 1980's Empire Strikes Back. The Abominable Snowman also appears in Pixar's 2001 release, Monsters, Inc., entertainingly voiced by John Ratzenberger (Cliff Clavin of Cheers fame).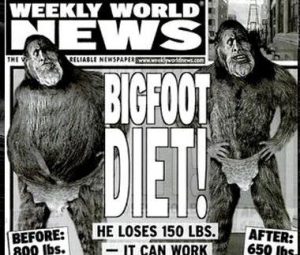 Should the disproportion of fictional portrayals dismay any of you true believers, don't give up hope. For years you could just grab the latest edition of "The Weekly World News" to buoy your spirits. The publication decided to close up shop on their printed tabloid with a final issue in late August of 2007 but do not despair. They have elected to continue with an online version dedicated to the unusual, inane and, how do I put this…stupid. If you insist on believing anything you read, then you no doubt already know that Bigfoot is alive and well. In fact, he has recently recorded an album of duets with Elvis, robbed the Tooth Fairy and eaten Donner and Blitzen.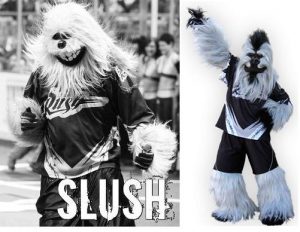 Bigfoot is no stranger to the world of sports, either. The NBA's old Seattle Supersonics featured a mascot named Squatch that entertained at home games with a spectacular variety of antics and acrobatics. However, the franchise relocated to Oklahoma City and Squatch was last seen introducing his cousin, Slush, as the mascot for the Edmonton Rush of the National Lacrosse League (you indeed can find anything on the internet). In addition, Slush has now been joined by another cousin, Freez, who also performs during Rush games.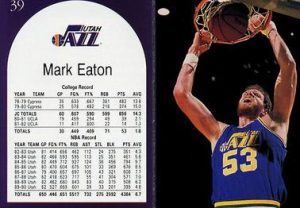 Getting back to a side note from the NBA, the Utah Jazz used to have a player that I always felt bore an uncanny resemblance to many eyewitness descriptions of Sasquatch. Mark Eaton stands 7'4" and played for Utah from 1982 through 1993, retiring as the second all-time leading shot blocker in NBA history. Imagine the sight of that figure strolling towards you out of the shadows.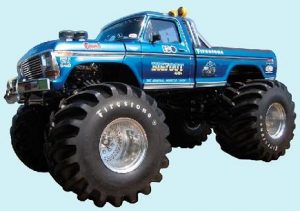 A final suggestion for you to get a glimpse of the remarkable power of Bigfoot would be at your good old neighborhood Monster Truck Rally. Although I'm not particularly a Monster Truck Rally sort of guy, I understand that Bigfoot is considered the original Monster Truck and can still be sighted on the circuit.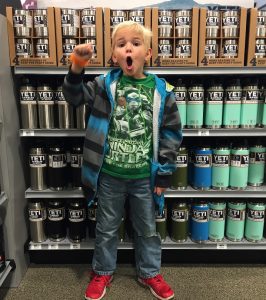 My man, Zac, found Yeti.  Not sure if the expression represents victory or alarm over the price tag.
As you can see, Bigfoot/Sasquatch/Yeti (or at least their likeness) has had quite an impact on American pop culture going on fifty years. Once again, I'm sure there are plenty of other instances out there that have either slipped my mind or are simply unbeknownst to me. But that's another aspect that is part of the enjoyment of meandering across the internet with this blog. Thanks to readers comments and e-mails, I get to refresh my memory or learn some new things, useful and otherwise (but no less important to me) along the way.
Talk to you tomorrow. Troy