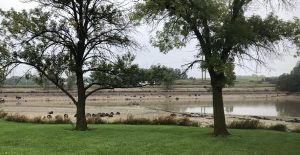 The final piece of the series takes a look at the fishing secrets that come to light during a drawdown. The items or areas that can serve as fish magnets are collectively known as "structure" (or "cover") which is comprised of several different types. Generally speaking, these types consist of wood, rock, vegetation, manmade structure and bottom contours. With a full drawdown in effect, the vegetation component is taken out of the equation for the time being. However, the rest are bared for all to see.
Wood
I break down this category of structure into specific types such as stumps, brushpiles, standing timber, logs, laydowns and my personal favorite, beaver lodges. The details, definitions and presentations that apply to such cover are posts for another time. For today, it's simply about the scenery.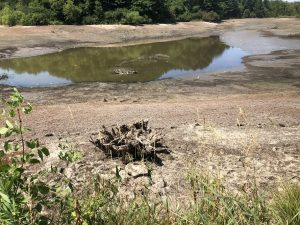 Lambach Lake – stump (foreground) and brushpiles (background)
Lake of the Hills – now that is a stump, folks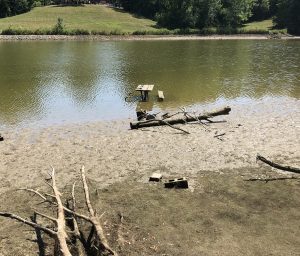 Lake of the Hills – laydown, logs and a picnic table (don't laugh I've seen Dad catch a few off of those over the years)
Rock
For me, rock types consist of riprap, rockpiles and rubble. The West Lake Complex features some of each with more on the horizon via a substantial amount of shoreline improvement and stabilization. This particular improvement will come primarily through the placement of large chunk rock (aka "riprap") along stretches of the shoreline. Such an addition will help combat deterioration and erosion of the bank caused by water, waves and weather.
Rocky banks near and far with more to come during the shoreline improvement phase of the project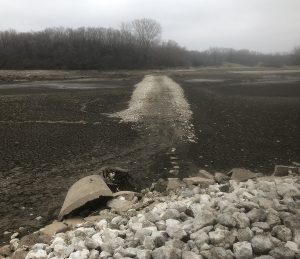 Riprapped jetty shoreline leading to a rocky roadbed crossing Lake of the Hills
Manmade
Drawdowns provide an excellent opportunity to add some manmade structure. Tires, pallets and various PVC/plastic creations are popular choices.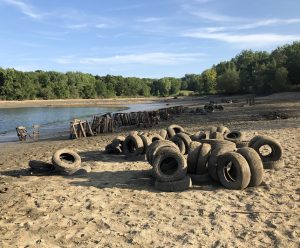 An extensive offshore collection of tires and pallets would certainly be worth some casts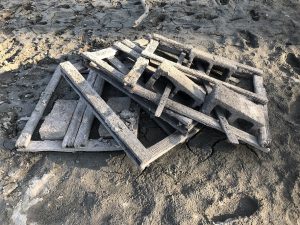 Got pallets? Actually, that business is how I earn a paycheck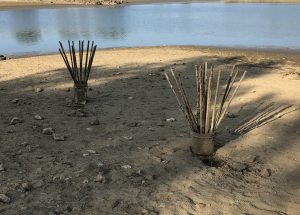 Buckets loaded up with PVC pipes and concrete serve as fish attractors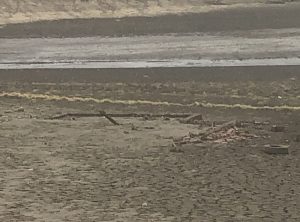 Thought this old foundation was pretty cool, others listed on a map I found have apparently been silted over
Contours
The lay of the land below the surface also represents an important component of the overall fish holding structure in a body of water. Points, flats, drop-offs, humps, old creek channels and roadbeds all hold fish and each can shine during certain times of the year.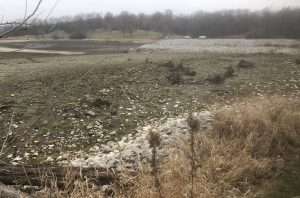 An extended flat featuring a collection of rubble and wood, dreaming of buzzbaits and summer
An old roadbed in the distance provides a hump crossing an arm of Lake of the Hills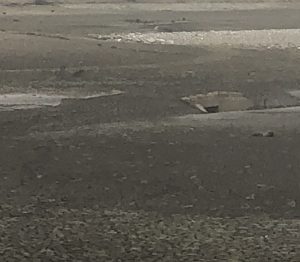 Mid lake culverts along what was part of an old creekbed prior to the creation of Lake of the Hills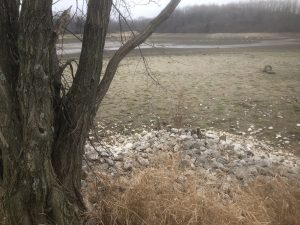 A classic collection of cover – a riprap point with several stumps, definitely want to stop here for some casts
Honestly, I could go on all day about this stuff but will call it quits for the time being. I do have my fingers crossed that I can get back out to the West Lake Complex and do a bit more in depth roaming before the lakebed gets covered in white stuff. Last time out I came prepared for a run and some limited, dry shoreline exploration. If I get back out again, I definitely plan on packing my boots for a change of pace after logging and jogging a few miles. As always, if I'm running around outdoors, I'll talk to you sooner or later. Troy