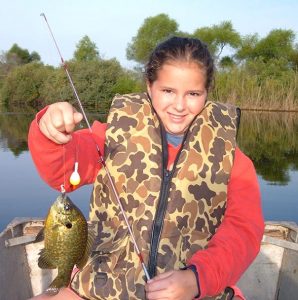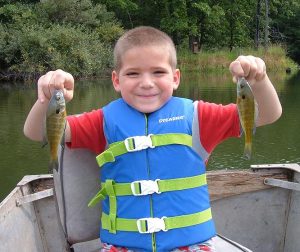 Perhaps a bit lengthy for today's flashback but too tough to trim down this pair of original posts from August 2015.
Originally posted August 26, 2015
Well, me and the bass have not crossed paths for 66 days during a busy summer. However, I did get an opportunity to play fishing guide recently as a couple of my kids wanted to go for a boat ride and chase some bluegills on a recent camping trip.
Actually, I had planned to go on a solo bass trip that particular morning while the rest of the crew slept off a late night of tacos in a bag and s'mores around the campfire. But at 5:30am, as I rolled around out of the tent, I was met by Julie and our youngest daughter, Carly, who was interested in accompanying Dad on the water.
What do you say to that?
I was admittedly a little shocked to see a youngster up that early to fish but she had been a pretty dedicated bluegill chaser the previous evening so I suppose I shouldn't have been too surprised. And I will also admit a tinge of selfish disappointment at rearranging my bass pursuit in favor of panfish but I quickly and properly got over it. In fact, Carly's enthusiasm left no doubt concerning what I already knew was the right thing to do.
Carly is a talker and she lived up to that billing as we drove through Little John Conservation Club from campsite to fishing hole peppering me with a barrage of questions and observations. While a nine year old girl and her forty eight year old dad's interests are sometimes separated by the traditional generation gap, during those few hours in the wild we were right in tune. An "experienced" outdoorsman, an eager pupil and the natural backdrop were a perfect combination.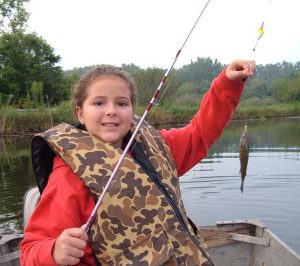 A few minutes after launching the little johnboat Carly hooked into her first fish off a point that is a consistent winner and apparently more than just a bass haunt all of these years. Later in the trip she posted her first (and second) redear on her way to a decent bunch of fish in maybe an hour and a half of casting before we decided to head back to see what the rest of the crew was doing.
I was quite impressed with Carly's casting precision from boat to bank as she was right on target and demonstrated a touch that usually isn't necessary when prowling the bank. The bite was fair and many were missed as some of our quarry may not have been large enough to adequately take even a 1/16 ounce jighead hung from a slip bobber. Carly's success solidified her opinion that waxworms rule as her Gulp minnows just didn't do the trick. It was also cool to hear the pride as she discussed her catch, even when she pointed out the fact that I had not caught a single fish. I did pitch a Senko around briefly and tried to talk a bass into taking a buzzbait to show Carly the exciting and explosive strike but neither presentation produced. I also tossed a Gulp minnow to no avail but was quite content with my tasks of rowing, baiting up waxworms, releasing the occasional catch, snapping pics and shooting the breeze.
An enjoyable morning spent with our family's most dedicated fisherkid who'd also posted a handful of bluegill the previous evening. Those fish came with a healthy dose of fishing advice from her Papa, the same guy who taught this blogger a thing or two about fishing back when I was a nine year old kid.
Originally posted August 28, 2015 
A few hours later I was back on the water with a boy of my own as our six year old, Jayce, was itching to try his luck from the boat as well. While Jayce has been out on boat rides in his Papa's Bass Tracker, this marked his first time in what we've long called "the little boat." Me and Jayce's Papa and Uncle Brent have covered many miles over the 30 plus years we've rowed that thing around West Central Illinois. Dozens of other anglers have also tagged along over the years, making me think it would've been fun to have had each of them add some graffiti on their trip (likely would've weathered away anyhow).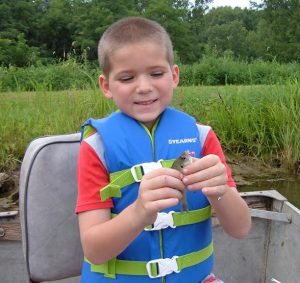 Anyway, Jayce was fired up from the moment we left the bank. It started with standing up as his initial stab at pushing the limits. And, "No, buddy, you've gotta sit down" was my response (all half dozen times or more).
Next was "Can I put my hand in the water?" No problem as I wrapped a couple fingers in a strap on his life jacket.
"How about my feet?" Nope, sorry buddy, too tough in an eight foot johnboat with six year old legs.
"Can I row the boat?" That was gonna be a winner and a valuable skill to be put to use in future years as his dad keeps getting a little older. However, he shortly added, "with my flip flop?" Cool, whatever floats your boat little man.
And yes, we fished, although the roles were somewhat reversed from my trip earlier in the morning with Carly. In this instance, I cast and caught the fish while Jayce was in charge of tending to the bluegill once they reached the boat. I asked him several times if he wanted to cast, hook and reel them in but he was more interested in surveying and organizing our catch in the bottom of the boat. That was probably for the best anyway as our catches were so small that it was a very limited hooking percentage on the bites, potentially frustrating for a young angler.
We had a good time fishing our way around a smallish body of water over the course of maybe an hour before heading across the road to our campsite. It was our first camping trip of the year to Little John and I'd kind of lost touch with the adventure of a family outing in the wild. In terms of the fishing portion I also found it fun that camping afforded the cool aspect of my boy crawling out of bed and then climbing into a boat without even bothering to change out of his pajamas. Gotta love the outdoors.
Talk to you later. Troy