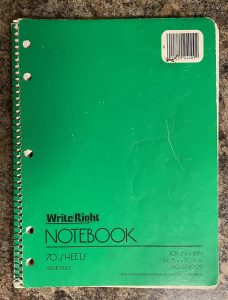 Inside of an old green spiral notebook are a series of fish stories dating back 35 years. Those stories begin on January 19, 1985 and run through August 25, 1985 in a collection of 64 fishing log entries. The timeframe covers the latter half of my senior year in high school and the following summer.
Today's flashback features the final three entries in the logbook and reinforces why I am glad that I took up the practice of documenting fishing. Things like the fishing partners, the fishing holes and the fishing habits are a treat to look back on and reminisce.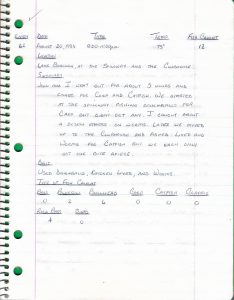 In terms of fishing partners in these last three log entries, the two fellow anglers were a couple of my best high school buddies. The August 20 entry notes John Junk, a friend since our sophomore year in high school and sports opponents going back several years prior. The fishing partner on August 21 was Jeff VonDrake, a friend going back to middle school. Many memorable fishing trips with those guys back in the day and just a few hijinks, on and off the water. Probably for the best that some of those were not documented for posterity, however.
Fishing holes in these entries consisted of the dynamic duo of Lake Bracken and its entertaining spillway. 35 years later I no longer have access to those spots but I do have plenty of memories to last a lifetime. It is also interesting to note the mention of "The Clubhouse" as the lakeside venue no longer exists having burnt down in January of 1987.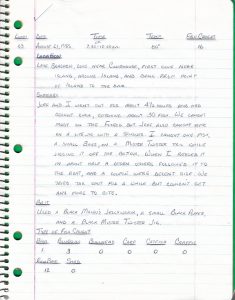 Fishing results were not stellar during that August week 35 years ago but no matter. It's just fun to read of doughballs, chicken liver, poppers, Mann's Jellyworms and Mister Twister jigs. A much simpler and less expensive time in bait and tackle.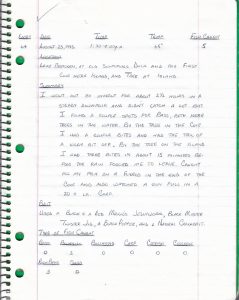 What is also fun is reading the beginning of the summary for the August 25 entry, the final fishing trip documented for 1985.
It reads,
"I went out by myself for about 2.5 hours in a steady downpour…"
And thus, my fishing for 1985 likely ended. I was fortunate to have the opportunity to head for college shortly after that final trip. I suspect that new chapter in life put fishing (or at least logging any trips) on the back burner for the remainder of 1985.
Here in 2020, reading that last entry, I envision an eighteen year old kid rowing across Lake Bracken on that rainy summer day pondering a wide open future. High school behind, college, employment, adulthood and more ahead. A romantic vision, perhaps. More likely I was pondering whether I should throw a worm or a crankbait.
Makes for a good story, though. Talk to you later. Troy