Short and sweet this week with another look at the pursuit of bass #2000 that began in 1997. Below is a portion of a 2006 post detailing the quest.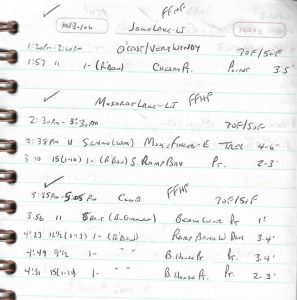 Originally posted 10-29-06
October 30 – I was able to squeeze in just under four hours at Little John as the weather took a positive turn pushing temperatures up near 70 degrees. I thought about inviting Dad but figured that any bass he caught would be detrimental to my cause. Actually, I'm sort of joking, as he was aware that I was fishing but had already had his outdoor fix taking care of some preseason trapping preparations. Seven bass chipped away at the goal leaving me six bass short with November and December looming on the horizon. Two of my fish joined the record book with a 1-10 from Muskrat Lake and a 1-11 from Club Lake. Both bass hit a Mann's Baby 1- (rainbow).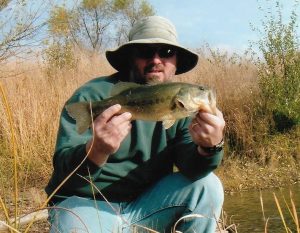 3:00pm – Bass #1990 at 15″ and 1-10 on a crankbait
While my confidence is a bit shaken, I haven't yet given up hope on landing number 2,000. I'm open for suggestions if anyone can get me access to a "can't miss" fishing hole, watch my kids, bring on some unseasonably warm weather and find me an excuse to call in sick to work. If I don't make it, I can console myself with the fact that I would have never even gotten close had I not had a chance to fish the Buckheart strip mines, which have considerably boosted my totals. Then again, if I would have listened and followed through over the years when told, "You've got to get down here and fish Buckheart," I might be shooting for 4,000 instead. Ten fishing seasons is a long time considering I'm only six bass short. I've busted off or lost many more than six in that time or passed up bass fishing in pursuit of other species.
Of course, hindsight is 20-20. Perhaps, I'll blame Ben Franklin as he is often cited as proposing Daylight Savings Time for the United States.  Although an inventor, he did not actually invent the practice that ultimately cost me an extra hour of fishing on October 30th and will cost me an hour every day for the rest of the year. Sure enough, in 2007 DST is going to be expanded.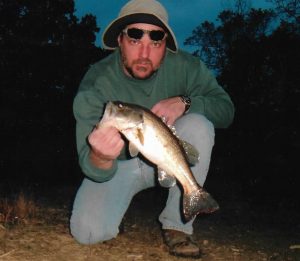 4:51pm – Bass #1994 at 15″ and 1-11 on a crankbait
After this outing, I was a mere six bass short of my target of catching bass #2000. But time and bites were fleeting as November arrived leaving me to wonder if I would get a chance to find and fool those half dozen bass. Stay tuned as Friday Flashback continues into November and December. Talk to you later. Troy