These old fishing reports come in real handy for the Friday Flashback series, kind of nice how that works out several years down the road when just a bit too busy to get on the water. Eases the load on writing as well. Here we go with the original report in its entirety as posted on September 10, 2013.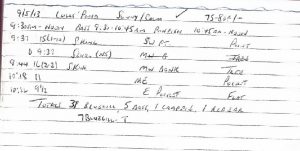 Nothing like a farm pond to break a fishing drought.
The start of the school year has understandably and rightfully put a damper on goofing off. Thus I've submitted no blog entries for 32 days and logged my last bass at 11:46am on August 1. I guess it must be something about months that begin with the letter "A" as I went 0 for April earlier this year. Hopefully the next couple months or so will provide a few opportunities now that the family is finding some sort of routine amidst work, school, running, soccer, dance and so on. Kicking off my "fall finale" was a welcome trip with Dad to a local farm pond for some good old multispecies fishing.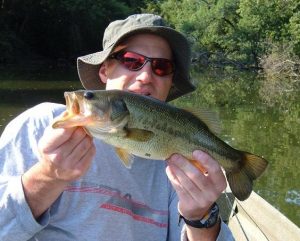 9:37am Quickly on the board with the first bass 15″ 1-10 Crankbait
Stats
Date: September 5, 2013
Location: Warren County Farm Pond
Time: 9:30am-noon
Weather: Sunny/calm
Air Temp: 75F-80F
Water Temp: Not available
Totals: 31 bluegill, 5 bass, 1 crappie, 1 redear
Lures (bass): Strike King Pro Model crankbait (sexy shad) – 4 bass, Senko wacky rig (natural shad) – 1 bass
Bait (panfish): Waxworms on a jighead hung from a bobber
Weight (2 bass at 12" or better): 3-12 (2-2, 1-10)
Top Bass: 2-2 (Troy – Strike King crankbait)
9:44am Top Bass 16″ 2-2 Crankbait
Notes & Nonsense
Out of Practice – Having not used my fishing gear for a while, I was a little lost on some last minute prep. Throw in a real busy two year old to keep an eye on and things get a bit wild and prone to distraction. Dad was quick to point this out when I arrived at his house minus oars prompting a return trip across town to my garage. Looking on the bright side, however, at least I didn't forget the kid instead.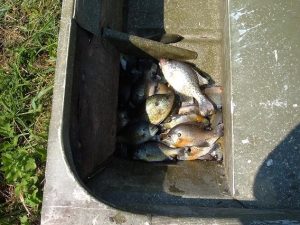 Who needs a fish basket?
Runs in the Family – Upon arriving at the pond, Dad found that he too had forgotten an item, his five gallon panfish bucket. He combed a nearby barn to no avail so we just went with what we had and tossed our keepers into the back of the boat. Looking on the bright side, however, Dad commented that we certainly had plenty of room in the 12' fish basket for some cooperative fish.
Just Like Riding a Bike – Seven minutes into casting I reeled in proof that I still knew how to fool a bass. Seven minutes later I boated bass number two which engulfed my crankbait as soon as it hit the water next to a fallen tree. The 2-2 was a nice fish to break the bass drought and fell one once shy of the pond record, a 2-3 that I caught on September 10, 2010 on a wacky rigged Senko (interestingly the first bass I ever caught at the pond). We made roughly one lap around the pond pursuing bass from 9:30-10:45am winding up with five fish (all released).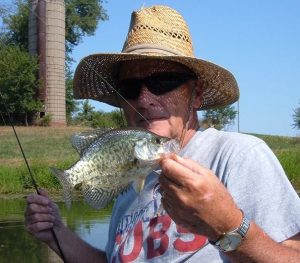 Multispecies day – Crappie? Check!
Round Two – The second half of our trip focused on pursuing some panfish with waxworms hung from a bobber. Dad has a couple productive spots where he plants his lawn chair for solo outings so we hit one only to find that the fish weren't to be found. Moving around a point he began to pick up a handful but felt we should try a consistent area near the dam. His suggestion paid off and we spent our final thirty minutes hooked up on a pretty solid bite.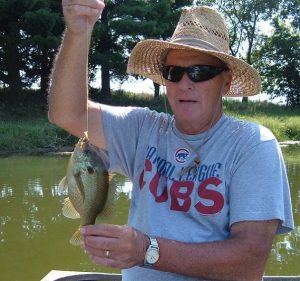 Redear sunfish?  Check!
The Title – Back when we used to target whatever would bite our Beetle Spins, we'd award an unofficial "Species Title" to the angler who reeled in the most different fish. Dad and I spent much of this trip knotted at two apiece with a bass and a bluegill before his late additions of a crappie and a redear gave him a runaway victory. He's also tangled with several good catfish on his ultralight over the years but none of them paid a visit this time around. In the interest of honest reporting I will also admit that he soundly whipped me for the overall catch title as I only managed seven bluegill to his twenty six panfish.
The Taste – Part of the reason for the trip was to obtain some fillets for a lunch event at my workplace yesterday. For many years, staff members have put together a more or less annual feast called "The Taste of the Mary Davis Home" where employees bring in dishes of their choice to share with the kids in our charge. Life in a detention home certainly has its share of challenges, frustrations and stressors and sadly for a number of these kids, things may not be any better at home. Therefore, it's always rewarding to have an event such as this to put life aside for a bit in favor of a tray, two bowls and two paper plates for most that are heaped with a little bit of everything. Dad's contribution of bluegill and crappie fillets was met with several compliments from kids and staff alike and I'd like to say thanks for helping us out. All involved helped to create an atmosphere with a lot of smiles, ample debate on which dishes ruled the day and, of course, plenty of kids (and a few adults) clutching their stuffed guts yet still having room for that last cookie.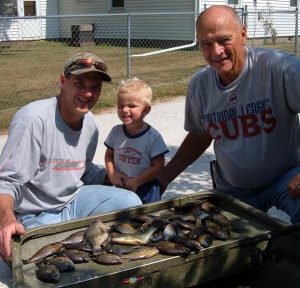 Although Zac didn't tag along on this outing, showing off the catch is another important piece of a father-son fishing trip.
Okay, maybe a bit longwinded for a trip without any true trophies but it reinforces that there's more to the trip than the catch. For better or worse, that's how I fish. That's also how I write and after a month without a blog entry you should've seen this coming.
I may beat a dead horse on this but darn glad that I took up writing as it's fun to look back and remember details that would otherwise have been forgotten. Whether it's forgettable to those who tune in, I'll leave that to you. Personally, I think these batches of real life provide a brief, pleasant escape from much of the other real life that lies out there a mouse click away. Talk to you later. Troy