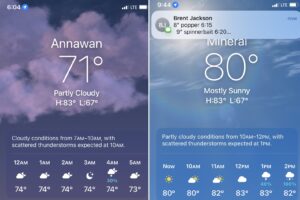 After a Knox County strip mine trip in mid-May, all my subsequent fishing trips have been on The Canal. Most of those trips have been within twenty miles of my driveway as I look to keep fuel costs down. And it doesn't hurt that those "local" spots provide decent fishing as well. So, on this morning I decided to splurge on gas and wander roughly forty miles to the east to try new water. Read on to see if it was worth the money.
Winning Lures
Stats
Date: August 28 (two spots)
Time: 6:05am-11:20am (4.50 hours fishing)
Totals: 11 bass (2.44 bass/hour)
Weather: Overcast/breezy 71-80F
Lures: War Eagle Spinnerbait (chartreuse/white) – 8 bass, Booyah Buzzbait (black) – 3 bass
Top Bass: 1-12 Spinnerbait
Top 5 Weight: 7-2 (1-12,1-7,1-6,1-5,1-4)
Notes and Nonsense
First Impressions – I have found the pools to be considerably less weedy as I head east. While several of the local pools have surface vegetation so thick that you could darn near walk across it, the new water I fished had wide open channels between the modest weed beds lining both banks. However, the water clarity diminishes to the east with a fellow Canal angler describing it as "split pea soup—green and thick with chunks of stuff in it." In terms of cover, I hit every piece of wood I can find, and I would describe the availability as sparse. Finally, the depth is much better as I make my way east. Locally, I can often see the bottom in the clearer stretches, whereas the pools on this trip were deeper than the oar which is my crude depthfinder.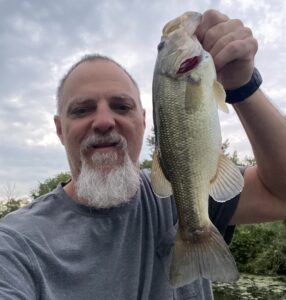 6:12am – on the board on a new stretch of The Canal
Startling Start – So, I am rowing up The Canal in the near dark before sunrise and lost in a daydream when something explodes near enough to the boat that the splash got my pants wet (luckily, I'd relieved myself prior to launching). It scared me half to death, made me jump and involuntarily utter something unintelligible as my mind snapped back to reality. In hindsight, my best guess is that a beaver and my boat were on a collision course before one of us steered clear. Possibly a carp but it would have been massive based on the splash. I also scanned the bank to see if Sasquatch had tossed a boulder at me and my watercraft (don't laugh as I know of a Bigfoot report from The Canal about a mile and a half downstream). As a seasoned rower, when moving from spot to spot, I often just put my head down and row with only an occasional look over my shoulder. Therefore, I cannot say what caused the commotion, but I sure was glad that the sun was peeking over the horizon.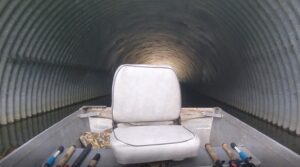 A necessary task to reach some new bass
Tubes – While on the subject of creepy, travels on The Canal can feature a row through a tube under the roadways. And those corrugated corridors are crawling with cobwebs. I suspect that there are plenty of the cobweb creators present as well but I don't look too closely as I don't really want to know.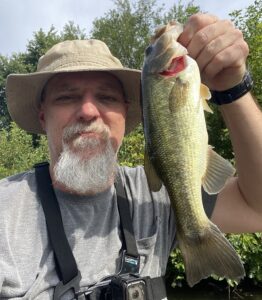 9:40am – introducing myself to a bass on another new stretch of water
Oh yeah, I also saw a snake slither by the boat within oars reach. Many creatures were astir on this day even if the bass sightings were a bit below expectations.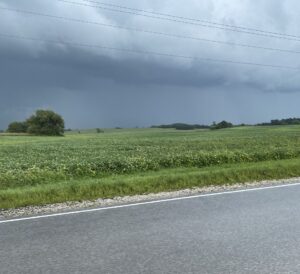 Got ugly by the time I was headed home
I ended my day exploring since I was already a ways from home. This was simply driving as my back was hollering at me and I did not really have time to launch the boat to give any spots a true test. I checked out every road crossing or parking access in the vicinity and have several new spots on my wish list. Time will tell if those spots get a shot in 2022 as I have other destinations to visit beyond The Canal before the fishing year is over. Talk to you later. Troy