Looking back 35 years ago for this week's flashback, it appears that I may have missed my calling. From the looks of my old fishing log, I should have been a fishing guide. After all, during the nine days spanning April 27, 1985 through May 5, 1985, I spent parts of seven days on the water and fished with ten different "clients."
April 27, 1985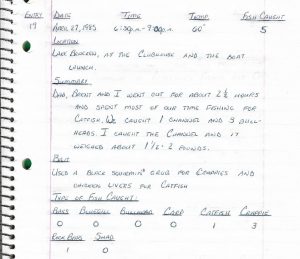 April 28, 1985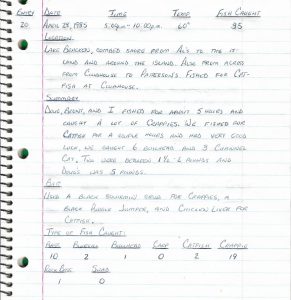 April 29, 1985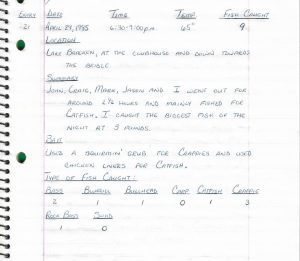 These "clients" included my dad and each of my three siblings (two brothers and a sister). I guess Mom must have been busy that week.
In addition to family, friends rounded out the rest of the ten fishing partners. The log only identifies the co-anglers by first name but I think they all deserve a shout out. From the Galesburg High School Class of 1985 were Doug Dawson, John Junk, Craig James, Jason Radakovich and Joe Dennis. And the GHS Class of 1987 was represented by Mark Junk.
Quite a crew, several of whom were frequent fishers out at Knox County's Lake Bracken during the latter half of my high school senior year and on through that summer. All told, the old green notebook that served as my first fishing log covers sixty-four fishing trips spanning January 19, 1985 through August 25, 1985.
April 30, 1985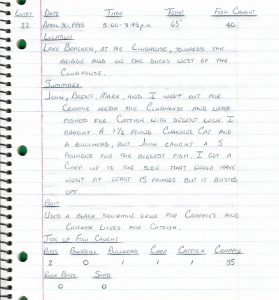 May 3, 1985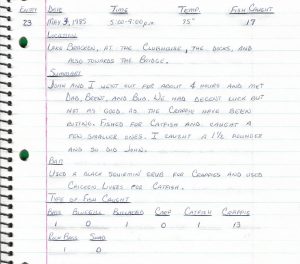 May 4, 1985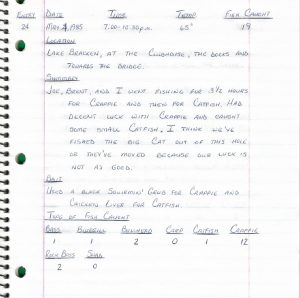 May 5, 1985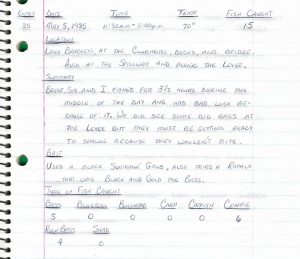 I suspect we'll explore more of the contents of that green notebook as 2020 progresses. Talk to you later. Troy