You never know what you will get in terms of weather in early April. From today's flashback it appears that it was rotten and windy to start April 2017. It seems that the wind did not subside for this outing, but the weather took a turn for the better and hit the comfortable range.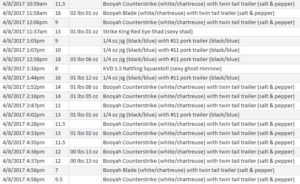 Originally Posted 5-13-17
Stats
Date: April 8, 2017
Locations: Knox County public strip mines (7 lakes)
Time: 10:45am-5:20pm (5.00 hrs. fishing the rest walking)
Weather: Sunny/very windy
Air Temp: 55F-72F
Water Temp: 53-58F
Totals: 20 bass
Lures: Booyah Blade Spinnerbait (white/chartreuse) with twin tail trailer (salt & pepper) – 13 bass, 3/8 oz. Strike King Rattlin' Jig (black/blue) with #11 pork frog (black) – 5 bass, KVD 2.5 Rattling Squarebill Crankbait (sexy ghost minnow) – 1 bass, Strike King Red Eye Shad (sexy shad) – 1 bass
Top Bass: 3-6 Jig & Pig
Top 5 Weight: 10-0 (3-6,2-1,1-12,1-8,1-5)
12:58pm – Top Bass at 3-6 on a jig & pig
Notes & Nonsense
Strip Mines – Walk-in only access is a double-edged sword on these waters. On the upside, it offers off the beaten path angling and a stick and jab approach with numerous potholes; no bites in fifteen minutes or so, move on to the next body of water. The downside is the fact that my iPhone Health app recorded a total walking distance of 5.2 miles from 10:19am when I left my truck until 5:50pm when I got back (13,365 steps for any Fitbit fans out there). And this ain't exactly a leisurely stroll around the neighborhood as undeveloped strip mine terrain pretty much stinks. Last fall I performed a similar stunt and wasn't sure I wanted to pull it again. However, as I surmised, an early season trip is much more user friendly as the weeds are manageable (both terrestrial and aquatic) and no mosquitoes yet compared to the previous outing where I darn near needed a transfusion.
Weather – Though I wound up a bit sore, bank fishing was definitely the right choice on this day as the wind was howling out of the south and would have been a bear to deal with in a little johnboat. In addition, the recent heavy rains in the area had really pumped up the lakes to a fuller pool than I have ever seen before. Even so, they were not muddied up and with the wind chop on the surface and the windblown banks being riled up it really made for some favorable conditions. If there was anything that was less than optimal it was a lack of cloud cover but after barely seeing the sun in early April, no complaint, I can deal with it.
Textbook Success – Top Bass came in a classic spot on my first cast after relocating to fishing hole number three. This narrow cut/pothole runs north to south meaning that on this day the wind was just pounding a ledge on the north end that drops rapidly from about two feet into ten plus. My jig and pig offering was met with a telltale tick after a couple hops down the drop and the result was a 3-6 bass with an impressive well-fed gut. Pretty cool when it works like that, but I will also admit that during the day there were many similar, can't miss setups that just didn't pan out despite considerable effort. Runner up Top Bass at 2-1, however, did show up in a windblown chute on a spinnerbait after the jig and the underspin proved ineffective. Lesson here is that if you think a spot sets up to hold a fish give it a variety of offerings before giving up.
A productive day on the water and what a nice day to be outside. I'd waited all the way since February for this one, kind of a weird year. Between the sun and wind, I even wound up looking like a real bass fisherman with a burnt nose, cheeks and neck combined with pale eyes and forehead. When it was all said and done, my back put up some protest regarding my habit of hauling too much tackle and one knee was a bit stiff but overall, I was pleased with my ability to successfully pull off this stunt one more time. Might just have to do it again…
And that's the plan, possibly this weekend or next depending on how some factors come into play. As always, there will be a follow-up fishing report here on the blog. Talk to you later. Troy