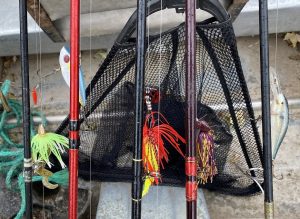 A look at the "starting lineup" for the final day of the season.
Every fishing trip that I take gets a fishing report here on the blog. I attempt to cram as much info into the posts as possible while still trying to keep them at a modest read. Time, viewing habits, unending internet content and attention spans have changed over the years in the information age, and many are ready to move on to the next thing before finishing the current thing. All of this leads me to having batches of extra stuff sitting around on my devices and in my brain. So, here's a few such items from my November 17 fishing trip.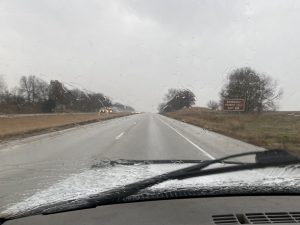 Rain or shine, I was committed to chasing bass and on this day. Conditions dealt me occasional bouts of the rain portion and none of the shine aspect. The scattered precipitation did not discourage or dampen me much, but I still can't get it through my head to pack raingear after all these years.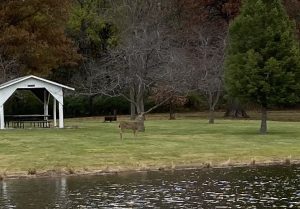 During my drive to, from and around my destination, I observed nearly a dozen deer as well as a bald eagle. While the deer were no surprise, it wasn't that many years ago that it was quite an occasion to spot a bald eagle at any significant distance from a major river system. Nowadays, it is not uncommon around my Knox County fishing holes.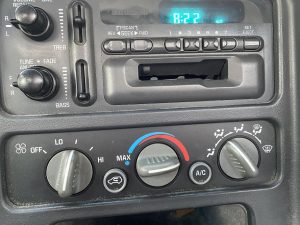 A sure sign that the end of my fishing year is approaching is displayed on the console of the truck. An 8:22am departure is a far cry from setting out at 4:30am to beat the sunrise to the strip pits. This time of year, leaving later allows for a little extra warmth that is often more about the fisherman than the fish. And the heat turned up in the truck is quite different than the windows rolled down (natural air conditioning as the artificial type no longer works).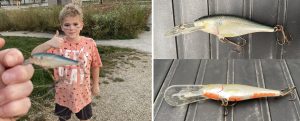 I suspect that a tiny bass landed at 3:37pm will be the final bass for me in 2021. It was fooled on a Shad Rap crankbait that I found during a family hike around Sylvan Island in the fall of 2020. If it indeed is my final 2021 bass, it will provide a fun bookend on the year as my first bass of 2021 was also caught on the lost and found lure back on March 20.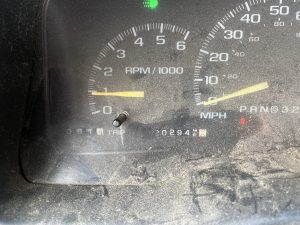 More miles racked up on the road to the fishing hole during a year when the truck crossed 200,000 miles.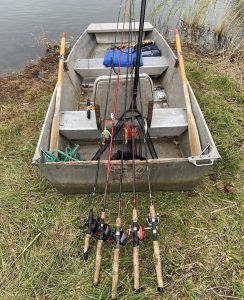 Another year in the books and well over 40 years and counting on this deluxe watercraft
Oh yeah, there's also tunes to report from this trip but those will have to wait for another day. Talk to you later. Troy