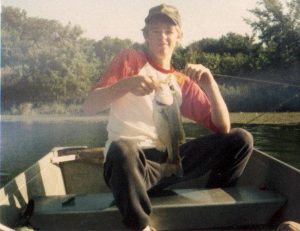 While "Belonging" served as the inspiration and kickoff article for the "1,000 Words" series, this photo certainly could have taken top billing. As I've mentioned in the past, I have rarely ever hit the water without a camera for much of the last thirty five years. That's a lot of fishing and a fair amount of success all captured for posterity. The result is well over a thousand pictures of myself and a multitude of fishing partners proudly showing off their trophies (nearly all of which were released to do battle again). But, hands down, this is my favorite fishing picture of all-time; the ideal finale to wrap up my "1,000 Words" series.
The youngster in the photo is my brother, Brent, with a two pound bass from Lake Storey that was caught on a buzzbait sometime during the summer of 1986. Despite my typically meticulous record keeping, this one somehow managed to slip through the cracks, which is probably the way it should be when reminiscing about our introduction to the pursuit of the largemouth bass. Over the years we've caught thousands more bass including hundreds that were larger, but this fish came from a different time.
Things have changed a lot since 1986.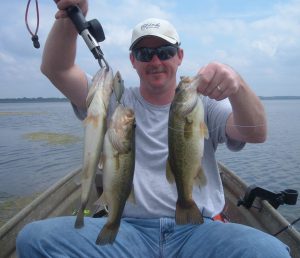 Same kid in 2011 at The Emiquon Preserve
At that time, Dad, Brent and I were just starting to grasp what bass fishing was all about. Sure, Dad had caught plenty of nice bass over the years, but he was about to turn things up a notch with some help from two of his boys. All of us were broke and busy but still found a way to pursue this new and exciting hobby together. In those days we each had a couple rod and reel combos, a handful of bass lures, limited knowledge on how to use them and Dad's small rowboat (it still floats and is sitting in my garage awaiting yet another adventure). Nowadays, we also resort to filling Dad's old Bass Tracker with over a dozen rods and reels paired with forty or fifty pounds of tackle. Gas and electricity propel us rather than elbow grease and oars. An electronic depth finder now tells us how deep the water is rather than an anchor rope, an oar or the tip of an inverted fishing pole. With or without those luxuries, simply spending time on the water has helped to improve our skills and our catch rates; either we're getting smarter or the bass are getting dumber, it's open for debate.
Whatever the case, things have changed a lot since 1986.
I shot this picture with an old disk camera. In those days, "disk" indicated that the film was on a circular disk contained within a plastic cartridge, a far cry from today's digital video discs or memory cards. I still remember picking up this camera for a significant discount when the Galesburg Hornsby's store closed its doors in the mid 80's. For some reason, I also recall purchasing a tackle box that I eventually gave away after upgrading as well as a handful of 45 rpm records. Anyway, I used that old disk camera until the film apparently went out of production and I was forced out of Stone Age photography. The last place I could find disk film was the now defunct Midwest Photo in Galesburg. They sold me the last ones they had amidst glances as if I'd arrived via time machine. I'm happy to report that I am now hip and fully digital after a number of years with the Advanced Photo System medium.
Things have changed a lot since 1986.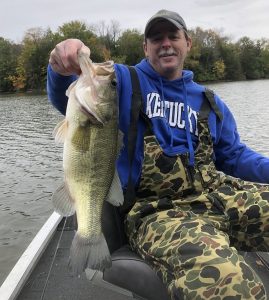 Same kid, same lake in 2018 as he established a new family Lake Storey Top Bass record
As previously noted, Brent's 1986 bass was caught at Lake Storey. The specific location, seen beyond Brent's left shoulder, will always be referred to as The Dump. During my high school and college days, from the summer of 1984 until the spring of 1990 I spent quite a few hours "working" at The Dump while employed by the City of Galesburg's Park Department. As teenagers, me and my buddies quickly realized that when given our daily workload, it was best to make it last all day. Initially we would bust our tails and finish early only to be rewarded with some crummy job that none of the "full-timers" wanted. It didn't take long to come to the conclusion that our orders were essentially, "Here's your job for the day, get it done, stay out of trouble and don't come back until quittin' time." So, that's what we did. Since we all played baseball we'd spend time goofing around at The Dump hitting rocks with sticks and taking target practice on bottles while staying out of the sight of any local taxpayers. I'm proud to say that my work ethic and ability to resist peer pressure have both improved.
Things have changed a lot since 1986.
Brent's attire also deserves a mention. He is sporting what we used to refer to as "baseball sleeves." These were the three quarter length sleeve shirts that were worn under the jersey of each season's baseball team. During our careers, my brothers and I probably racked up every color under the rainbow. We wore blue for the Little League Rangers, Galesburg Legion or Hi-Lo Grocery, black for the Little League Giants and Galesburg Silver Streaks, red for Coca Cola, yellow for a local funeral home and finally purple or yellow for Knox College. Nowadays, we no longer need to purchase such athletic wear for ourselves as we've grown too busy, too old and too "Dad."
Things have changed a lot since 1986.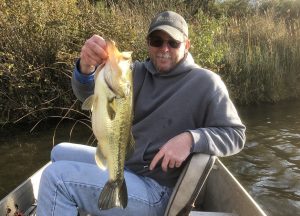 Same boat, same photographer, same kid with a 2019 trophy catch from Snakeden Hollow 
While that 1986 pic obviously conjures up a cascade of memories, the one aspect that goes a long way towards making this my favorite fishing picture is "The Look." As mentioned earlier, Dad had already landed his share of quality bass with his twenty plus year head start. However, Brent and I weren't in the same boat, figuratively speaking. So, for a pair of young, novice anglers, the bass was literally the bass of a lifetime, something to brag about. I'm sure we couldn't wait to get home to tell Dad about the trophy (which was released after the photo). The right lure, an accurate cast, the proper retrieve, a good hook set, steady pressure and a firm grip on the lip all added up to a prized catch. To me, "The Look" says that he knows what he's doing, has it all under control and "luck" isn't in his vocabulary, although back in those days we all knew better. But there's still something inspiring in the picture of that 16 year old kid who appears barely able to suppress a grin, full of confidence and satisfaction over a job well done.
"The Look" is evident in countless other photos in my collection and will continue to surface as every cast bears the potential of magically turning any of us "experienced" anglers back into that 16 year old kid.
I am grateful that some things never change.
Talk to you later. Troy