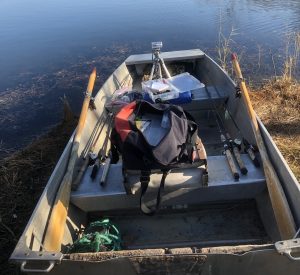 9:55am and looking for that final bass of 2018
I've mentioned more than a few times that one of my annual goals is to land a November bass before calling it quits on the fishing year. And for 2018 I had pretty much conceded that it wasn't going to happen. I was okay with that as responsibilities, work, weather and some vehicle trouble had conspired against going fishing as we reached the last week of the month. But things worked out after all and I took my shot last Saturday on one of my regular haunts.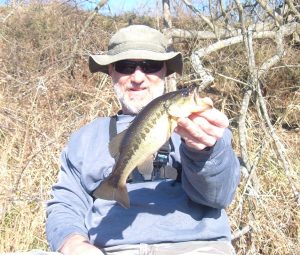 10:45am no giant but got what I was after, a November bass courtesy of a Rapala Shad Rap
Stats
Date: November 24, 2018
Location: Knox County, IL strip mine – private
Time: 9:55am-2:40pm
Weather: Sunny/windy
Air Temp: 43-53F
Water Temp: no gauge
Totals: 5 bass
Lures:
Strike King Rattlin' Pro Model 3/8 oz jig (green pumpkin) with Bass Pro Shops Triple Ripple Craw trailer (pepper frog hot orange) – 3 bass
Rapala Shad Rap (blue) – 2 bass
Top Bass: 1-15 Jig & Plastic
Top 5 Weight (only 3 at 12" or better): 5-2 (1-15,1-12,1-7)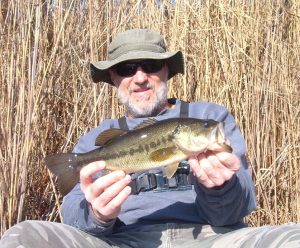 11:09am  14″ and 1-7 on jig and plastic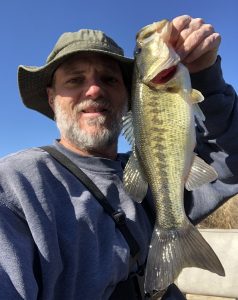 12:25pm Top Bass for the day 16″ and 1-15 on jig and plastic
Notes and Nonsense
Fishing Factors – Several items got me an unplanned day on the water. First up was the confirmation of open water as observed during a Thursday trip to Galesburg which led to the next item. Thanksgiving Friday off of work then allowed me to get my end of year yard work done on Friday instead of Saturday. A forecast of a Saturday temperature pushing 50F and the job of returning a nephew to Galesburg after an overnight stay were the final straws in the makings of a getaway.
All In – I picked one of my best spots in terms of potential quality bites and past cold water success when it came time to choose a destination. While I normally max out at two or three hours on visits to this lake before hopping to another fishing hole, for this outing I committed to investing all my time and working it over thoroughly. I hit all of my regular areas two or even three times as I picked apart the lake and managed what I felt was a solid creel.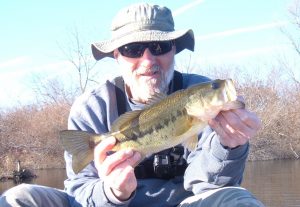 1:58pm and likely last bass of 2018 at 15.5″ and 1-12 on jig and plastic
Mission Accomplished – I lost my first bite at boatside as the anti-reverse on my reel gave out causing a batch of slack to spin out as I took my hand off the handle to reach for my catch. Fortunately, I only had to wait about 15 more minutes for another bite to get me on the board. While I'd also hoped to get a boost for my Top 5 it wasn't meant to be as I could not find anything to boot those two-pounders from the bottom of my list. As a result, it looks like I will fall short of the coveted 20-pound mark for the first time since kicking off the Top 5 project back in 2014.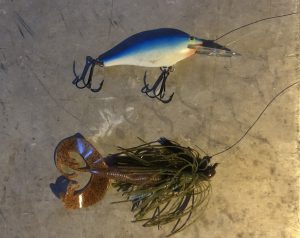 The lures that got it done – Rapala Shad Rap and a bit of a changeup from my standard jig and pig offering
Benching the Black and Blue – I'm pretty much a one trick pony when it comes to fishing a jig and pig being a longtime proponent of black and blue. Well, on this day, I stepped out of my comfort zone for a couple reasons. For one, the last time I fished the spot I saw a fellow nail a 5-9 bass on a green pumpkin colored jig and plastic trailer. In addition, I wanted to bulk up and really didn't have any decent option to replace my normal #11 blue pork rind trailer. The intent of bulking up was that I was hoping that whatever decided to eat it would be bulked up as well. Turned out to be the right decision in terms of bites as it fooled three bass. And while none turned out to be as bulky as I'd hoped, no complaint from me on the successful results.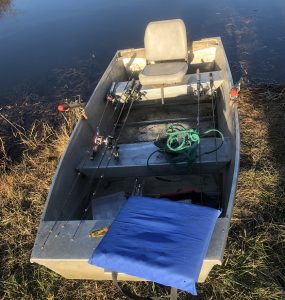 2:40pm and likely the end of the line for another fun year of fishing
I'll close with a final outdoor observation as a shout out to Dad. On the way down to the fishing hole the early morning skies were gray and the wind was pushing blustery. The leaf covered ground was wet from a series of showers the previous day and nearly all of the farm fields were devoid of crops. I must admit that it felt a little odd taking in the scenery with a johnboat and a load of fishing gear along for the ride. For that voice inside my head repeated a phrase frequently uttered by Dad this time of the year as it "sure felt like a trapping morning." Talk to you later. Troy