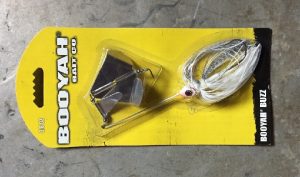 It's awful tough to beat buzzbait bassing. So much so that it can be downright addicting. You know, one of those presentations that you keep using even though something else may be more of the ticket on a particular outing or particular part of the day.
You see, buzzbaits have a few things going for them that keep me reaching for one once the water warms and the bass take an interest in topwater baits.
Reason #1 – They're fast. If I can get by with it, that's the way I like to fish, cover a lot of water and target aggressive fish or trigger a reaction strike.
Reason #2 – They're exciting. There's nothing quite like a surface strike to get the blood pumping, wake you up from a brief, ill advised daydream or make you kick yourself for sneaking a glance at the target area for your next cast instead of focusing on the current one.
Reason #3 – The results can be big.
I guess that Reason #3 probably gets the nod as the favorite but the combination of these features make the buzzbait one of my favorite approaches from about April into October. And some days I stubbornly stick to buzzing these things around willing to wait on that one bite that makes the wait worthwhile.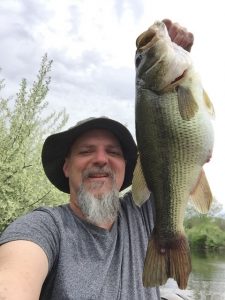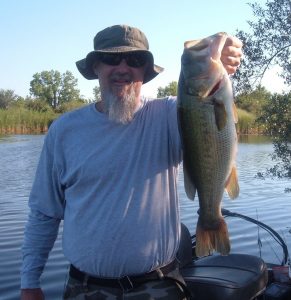 A couple 2017 Booyah Bites – April 25 (left) and July 8 (right)
For 2017 I got several of those big bites among an overall productive buzzbait year of quality and quantity. Unfortunately, a pair of those big bites wound up costing me two of my Booyah Buzzbaits.
The first took me into a downed tree after the strike. In hindsight, I was pushing my luck in some heavy cover and actually saw this four to five pound fish break the surface over a submerged branch and smash my bait. However, I could not turn the large fish in time and down it went into the cover where I could feel it pull on occasion before the frayed line gave way.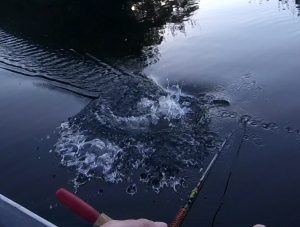 A crushing blow at boatside was the last cast for this Booyah Buzzbait
The second lost fish hit within a few feet of the boat as shown in the snapshot above from the GoPro footage of the strike. Nothing I could do on this one in the same weight class as the previous fish. I actually saw this bass bulging the surface just before the strike and when it hit like a freight train it wound up beating my 12-pound mono. In a matter of a couple seconds I saw the bass, witnessed the strike, had my rod tip pulled under the surface and felt the snap of the line. It's a pretty cool bit of footage and the snapshots are awesome in a disheartening sort of way. Yep, watched it more than a few times over the intervening months.
So, for Wish List item #2 I'm looking for two baits to replace the ones that were lost along with another spare as you can never have enough buzzbaits in your tacklebox. Talk to you later. Troy