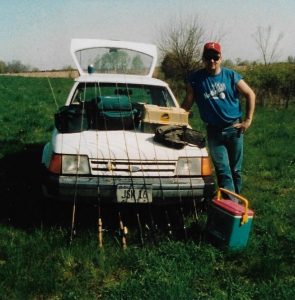 "Woody" (read on for more details) posing with our bass fishing arsenal near one of his grandma's ponds back in the early 90s.
Back in the 90s I had the good fortune of getting an opportunity to fish a handful of ponds at "Woody's Grandma's" down off the beaten path somewhere around the border of Illinois' Hancock and Adams counties. More specifically, I guess, in the middle of nowhere amidst locales like Augusta, Bowen, LaPrairie and Golden. A place where grass grew in the middle of the two gravel tire tracks that were the road (technically probably a lane) and if it rained too much you were out of luck as the once dry creekbeds filled and flowed over the rural "highways."
Got several tales from this area that likely will show up another day in a flashback so for today we'll just take a look at who this "Woody" character is and how I wound up on the banks of his grandma's fishing holes 25 years ago.
Scott "Woody" Woods and I would have first met sometime in the early 70s I suppose when our dads (Mike Woods and Terry Jackson) played more than a little fastpitch softball together. Under their influence, we each also took a liking to baseball and although we grew up playing ball in neighboring communities, our paths would cross again thanks to the sport.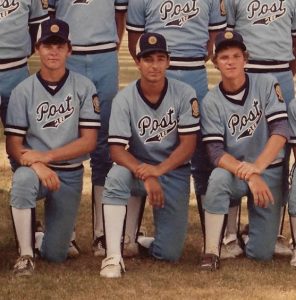 1983 Galesburg Legion Post 285 – Woody on left, me on right, flanking Woody's future Monmouth College teammate and one of my oldest buddies, Arnie Gonzalez.
Woody would star on some very successful Knoxville High School baseball teams in the early 80s while I was enjoying time covering various parts of the infield at Galesburg High School. Our local Legion Post 285 drew players from both schools so in 1983 Woody and I would have a chance to be teammates on the squad.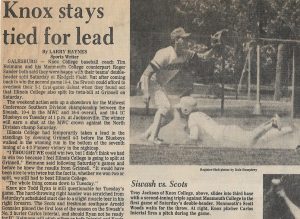 A fun clipping from 1986 of Woody and me in action as rivals at our shared position on the diamond.
Fast forward a few years later and we would find ourselves as dueling third baseman in the local college rivalry. Woody manned the hot corner for the Monmouth College Fighting Scots while I did the same for the Knox College Siwash. Definitely some heated competition as the teams have never really liked each other. Perhaps even worse than a Cubs-Cards feud, just on a smaller stage. Maybe more like the Hatfields and McCoys (a little less redneck though as that is where another division opponent, Illinois College, came into play, just kidding, sort of).
After putting our college baseball days behind us, Woody and I would wind up as co-workers for about ten years at a Galesburg, Illinois manufacturing plant, National Seal Company. And there it was, that Woody mentioned word of the good bass fishing at his grandma's farm.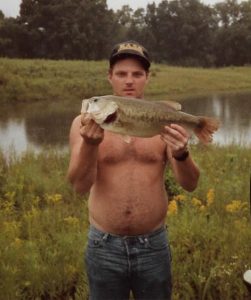 Oh yeah, a fish would be good for this post. August 1993 – Quality bass from one of "Woody's Grandma's Ponds" 
Fortunately, those Knox-Monmouth days were far enough behind us and I got a few invites to battle those bass.  And the one pictured above comes from 25 years ago this week, hard to believe how time flies.
Several others also grace the photo albums but those will have to be stories for another day, giving me yet another opportunity to take a walk down Memory Lane (in this case, grassy, only room for one truck and off the beaten path). Talk to you later. Troy