Original log entry detailing the September Ponder's Pond bass featured in the photo shoot below.
A May posting in the Friday Flashback series took a look at a spot called Ponder's Pond (aka "The Ponderosa") and we're back again for another batch of memories.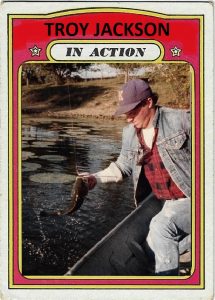 Couldn't resist creating my own fishing card mimicking the classic "In Action" series included in the 1972 Topps baseball set
Today's post comes courtesy of a decent bass landed back in September of 1988 at the fishing hole which was a favorite spot for a group of fishing buddies. One of those buddies is a fellow by the name of Matt Reynolds (aka "Hacksaw" or "Hack"). He and I spent a fair amount of time prowling the pond in the late 80s which resulted in some solid catches and more than a few fish stories.
Hack was on the camera end for this catch and I've long been grateful to him for taking the time to shoot this series of "In Action" photos. To me it's just kind of a cool glimpse of yesteryear, four images frozen in time as the catch comes aboard. Not so easy to do for a photographer back in the day shooting with some sort of basic camera in the days of film with no do overs or previews of your pics.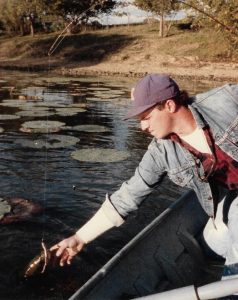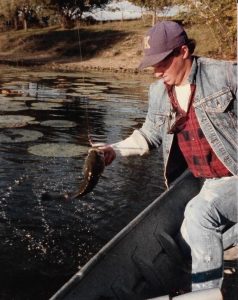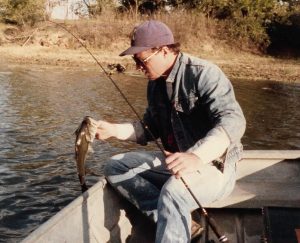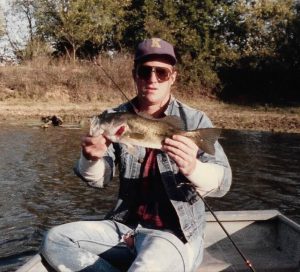 Plenty of other fun in the shot as well. Still got me a jean jacket all these years later and about time to bust it our again with fall on the horizon. Been many years since the flannel period and many baseball caps since my Knox College Siwash model. And throw in some old, bleach stained jeans with more than a few holes, luckily there was no dress code at the East End or Green Diamond taverns on the way home, actually fit right in.
Also included is a nostalgic glimpse of my old Berkley Lighting Rod spinning rig that caught many a fish before getting the tip shut in the trunk of a vehicle. One of my first two true bass fishing rods courtesy of a Berkley buy one get one free offer back in the mid-80s. Even remember purchasing it at Al's Sporting Goods, a classic Galesburg, Illinois shop that is now long gone as well.
Boy, can you say "those were the days"? Talk to you later