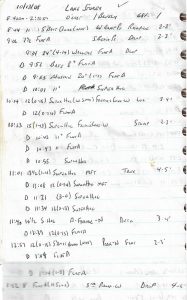 Original log entry from 10/13/2008
Back to Lake Storey and only one day shy of exactly ten years ago. This outing was one of the annual visits to the "home lake" with Dad. I too had a solid handle on being a dad but kind of only half the dad that I am these days. Only two little girls at the time, didn't know that they'd have a couple little brothers on the way. Much has changed on the family front, but in regards to the fishing hole it still resides at the top of the list thanks to the angling challenges, exciting rewards, aesthetic appeal and personal history. Read on for a sample of these characteristics as conveyed via excerpts from the original 2008 fishing report.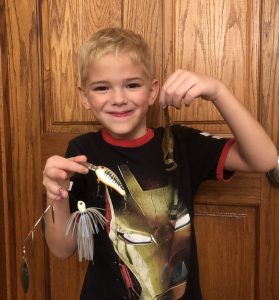 This outing and the actual lures from the trip are older than this boy (and his big brother)
10-13-08
Lake Storey (with Dad)
Time: 8:40am-2:10pm
Weather: Overcast/breezy
Dad – 12 bass 1 Muskie (20")
Troy – 8 bass 1 walleye (4-14)
Lures
Bomber Flat A in baby bass pattern (also 1 muskie & 1 walleye) – 9 bass
Zoom Super Hog (watermelon seed) – 9 bass
Quad Shad Spinnerbait (white) – 2 bass
Top Bass – Dad 3-0 Troy 1-13
Top 5 weight 8-3 (3-0,1-13,1-4,1-3,0-15)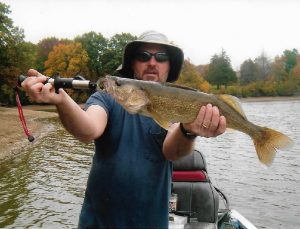 Solid 4-14 walleye but three pounds lighter than another Lake Storey catch a week and a half earlier
Challenge and Reward, Part I – The second quality walleye "accident" of October tipped the scales at 4-14; a very good fish that kind of paled a bit in comparison when following up a near eight pounder.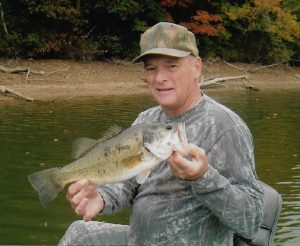 Top Bass for the day was Dad's 3-0 on a Zoom Super Hog creature bait
Challenge and Reward, Part II – This outing and a series of earlier fishing trips produced a handful of new entries for the record book. Eight bass gained entry with Dad's 3-0 taking Top Bass honors. All eight came from Lake Storey as the strip mines just couldn't compete with Galesburg's "home lake" when it was in the midst of the annual fall drawdown.
Aesthetic Appeal, Part I – The drawdown drops the lake level several feet leaving a great deal of structure (trees, stumps, rockpiles, weeds and docks) high and dry. This drastically limits the amount of hiding places for smaller forage fish and allows the larger predators to stock up as we head towards colder weather. Theoretically, this management tool will help sustain a healthy fishery. For the angler, the drawdown provides a glimpse under the surface that can be helpful in targeting the fish when the lake reaches its normal pool in the spring. In addition, it makes any remaining subsurface structure a potential magnet for baitfish which, in turn, attracts predators such as bass, walleye and muskie. Over the years, I've been fortunate enough to reap the rewards and I would say the practice is working just fine.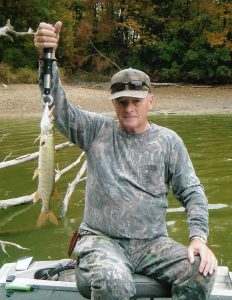 I like pics of any toothy critter so Dad humored me for this juvenile catch (cool drawdown background too)
Aesthetic Appeal, Part II – During my trips to Lake Storey I observed a pair of our most impressive birds of prey. First up was an osprey that I watched as it plummeted to the water's surface while harvesting an unsuspecting fish for lunch. Next was a bald eagle, the first I've seen at Lake Storey. I have also spotted a few at Lake Bracken and Snakeden over the years, testimony to the marked recovery of the species.
Personal History – Twice I ran out of battery power and had to utilize the gas motor to get back to the ramp. While it's against regulations, desperate times call for desperate measures. Ain't the first time I had to pull the stunt as one other time Brent and I had to fire up the big motor to escape a storm that snuck up on us.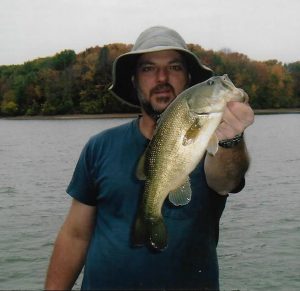 Chalk up another successful outing and a few more fish stories from Lake Storey
Actually, this stuff all fits under the personal history category and cool when it overlaps with Dad's personal history in this case or other fishing partners in other instances. Stories to be told again and again and always a treat when you share the adventure as each person recalls some different aspect of the same tale. More than a few such stories from Lake Storey. In fact, another Friday Flashback from the lake coming next week. Hope you'll tune in and talk to you later. Troy