Well, with less than a week to go in 2018 and a number of factors (primarily work) not working in my favor, I think it's safe to go ahead a kick off my annual fishing recap. Over the years I have taken to spreading the recap out over several posts and so it is with the 2018 version.
Leading it off today is a look at the overall numbers. More specific breakdowns are headed your way over the next several days delving into locations, lures and partners.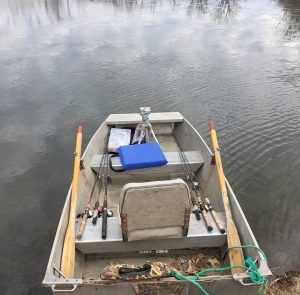 How it all began, February 27, 2018 with ice visible at top of the photo 
Grand Totals (bass fishing only)
19 outings (37 outings in 2017)
78.00 hours fishing (135.50 in 2017)
216 bass (416 bass in 2017)
2.77 bass/hour (3.08 bass/hour in 2017)
Comments: After posting a personal best of 416 bass last year I was pretty certain that 2018 would show a considerable decrease. In 2017, the first year of having my own blog, the aim was to hit the water pretty hard and I did. This year, on the other hand, was quite busy with the real stuff that I do like being a husband, father and co-breadwinner. Any time that I can get out to the fishing holes is a winner and I was quite pleased with the amount that I was able to get away. In addition, I was happy with the quantity of bass that entered the log during those hours on the water. Quality bass were elusive, however. More on that in a bit.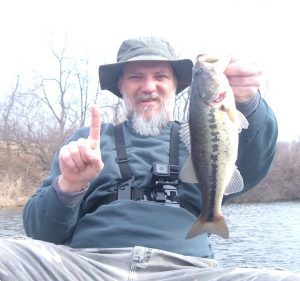 2/27/18 at 10:06am First bass of the year
First Bass/Last Bass
February 27 – Private strip mine 10:06am 15" 1-7 Rapala Shad Rap
November 24 – Private strip mine 1:58pm 15.5" 1-12 Jig & Craw
Comments: Couldn't duplicate the 2017 bookends as I led off last year with a crazy 6-2 bass and wrapped it up in solid fashion with a 2-4. A 270 day season for 2018 was pretty cool though as the February open water start was quite out of the ordinary. It did fall just a few days short of the 273 day span enjoyed in 2017 but I just couldn't extend it even though there was still some open water this week.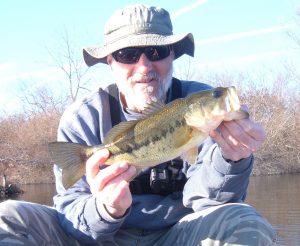 11/24/18 at 1:58pm Last bass of the year
Monthly Breakdown
February – 1 trip, 7 bass, Top Day Weight (2/27) = 7-3
March – 1 trip, 3 bass, none 12" or better
April – 3 trips, 82 bass, Top Day Weight (4/13) = 10-4
May – 3 trips (1 bass trip), 3 bass, Top Day Weight (5/28 – 1 bass) = 1-5
June – 2 trips, 27 bass, Top Day Weight (6/17) = 6-8
July – 4 trips, 15 bass, Top Day Weight (7/28 – 3 bass) = 3-5
August – no outings
September – 2 trips, 44 bass, Top Day Weight (9/23) = 12-7
October – 4 trips, 30 bass, Top Day Weight (10/18) = 6-2
November – 1 trip, 5 bass, Top Day Weight (11/24 – 3 bass) = 5-2
Comments: I was pretty hyped after open water in February allowed me to fool enough decent bass to fill my Top 5 limit on the first outing of the year. Pretty slim pickens after that with the exception of some solid batches of walk-in strip mine bass in April and September. October was also a good time with a pair of visits to Lake Storey and some really good fish from a fishing partner. Those highlights to come as recap week continues.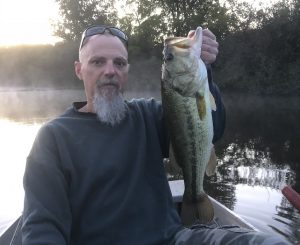 9/23/18 Top Bass 4-8 Knox County public strip pit
Top 5 Weight
15-9 (4-8,3-2,3-0,2-9,2-6)
Comments: If I had to pick one downside of my 2018 results it would have to be my inability to fool many quality bass. My struggle in finding those big bites resulted in my consecutive 20-pound Top 5 string coming to an end. Since the inception of our Top 5 project back in 2014 I had been able to fool at least 20 pounds each year. Just one of those things that wasn't meant to be as I fished hard, chased 'em where some quality fish swim and fished clean in not losing any good fish that I had on the line. Wait 'til next year though…
Folks, we've only scratched the surface as I dig indulging in my penchant for stats. Back tomorrow with a look at location. Talk to you later. Troy