"You're gonna need an ocean of calamine lotion."

Poison Ivy – The Coasters (1959)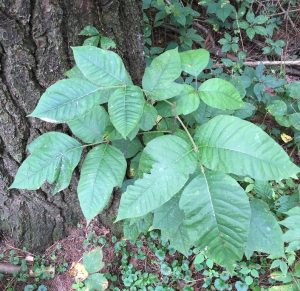 Toxicodendron radicans (Poison Ivy), Johnson-Sauk Trail Park – August 5, 2017
Me and this plant go way back and have had more than a few run-ins. Not the most eye-catching of our flora but certainly the most important one to identify in my book. And despite some effort, I don't believe that any of my kids are still able to point it out. On our hikes I get a lot of "is that poison ivy" rather than "there's poison ivy."
I guess those youngsters just don't have quite the intimate history with the plant like I do. And I do mean "intimate" as I've had it everywhere and I'll leave it at that.
A few shots were in order as a kid and more than a few orasone or prednisone prescriptions have been issued in some of the classic battles over the years. Like today's lyric, a collection of pink spots on the anatomy was not uncommon either via calamine or caladryl. Even had to resort to the wash thing a time or two in an effort to stop the itchy madness.
You'd think a guy with such a history would learn, but from time to time I still find myself in a risk versus reward quandary. It goes a little something like this.
Do I walk through that batch of poison ivy to get to that spot that looks like it could really be the ticket to some good bass?
Usually sounds like a good idea at the time. Over and over again…Talk to you later. Troy