"I think we're alone now, there doesn't seem to be anyone around."
Tommy James & The Shondells (1967)
(Note: I am aware that Tiffany also recorded this tune but I had no idea that new wave performer Lene Lovich had as well. This discovery prompted a fun revisit of this intriguing artist whom I first saw in the early days of MTV when the video offerings were all over the place in terms of genre. Learned something new today from the world of tunes, kind of cool.)
Okay, now back to our regular programming.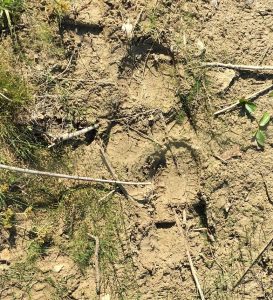 Unexpected prints off the beaten path, Knox County, IL strip mines – September 9, 2017
On the heels of yesterday's Bigfoot post, it seemed fitting to go with a shot of muddy footprints. Nope, not my contribution to the collection of Bigfoot evidence but a mystery nonetheless.
The tracks were found on some of the public Knox County strip mine ground where I do a fair amount of walk-in/bike-in fishing. And that's the only way that anglers are allowed to access the area. No vehicles and no boats, only bicycles or boots.
While it is not unheard of to see signs of both of those approaches, these footprints were different. They were way off the beaten path around the edge of a pothole pond hidden amidst a vast sea of armpit high vegetation. You don't even know it is there until you plow through the cover and nearly step in it. Even if you know where it is, it is still hard to find within the numerous ups and downs of the strip mine landscape.
Prior to stumbling upon the tracks, I'd often thought that only a fool would dare tread into such tough to reach territory. I guess that I must now amend my thinking to include a pair of fools.
Once the sting of realizing that I wasn't quite lost enough to have my own private fishing hole wore off, I actually developed some admiration for the fellow fishing fool. For not only had the angler dared to venture into the tangled interior of the site, he or she had only left behind the proper mark to betray their presence. All too often my initial indication that I am not alone is trash.
So, whoever you are out there, best of luck on our shared water and thank you for taking care of it.
Talk to you later. Troy