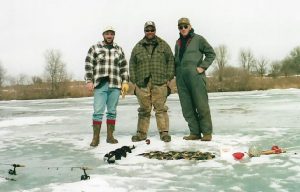 Emstrom's Pond with Troy Jackson, Tim Townsend and Terry Jackson – February 19, 2004
Sure have heard a lot of icefishing stories lately as it has been a banner season for those who take to the hard water.
Me, not so much. I'll stockpile my time away from home and wait for open water. While I wait, here's some pictures and the scoop from the last time I went icefishing just as it was written up in the original post entitled "Outdoor Update" on March 3, 2004.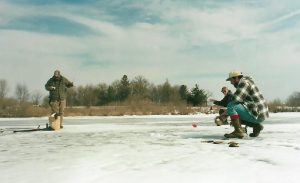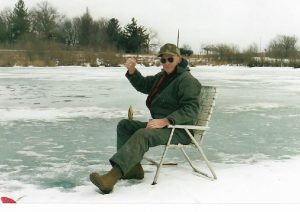 "On 2/19, Tim Townsend joined Dad and me for some icefishing at Emstrom's Pond. Seven to nine inches of ice coupled with air temps in the low to mid 40's is my type of icefishing. I wanted to get out just to say I went considering I hadn't been icefishing for probably six or seven years. I'm not the diehard that Tim is as exemplified by what we each consider suitable conditions. Tim had a few stories about not standing too close to his fishing partner in order to keep the ice from collapsing or being able to see the bow in the ice from an angler's weight. No thanks for me; I'll put in the extra effort to drill through a few more inches. Anyway, it turned out to be a successful outing, once we located the fish.
We started out around The Beaver Lodge with little success as Dad caught three bluegill and I caught one. I elected to move to the east side of the pond where I thought there might be a few green weeds that help keep the water a bit more oxygenated in the area. It didn't take long before I pulled in a couple bluegill right off the bottom in about seven feet of water. Not surprisingly, it didn't take long before I had some company. Before we left, the three of us had pulled in 52 bluegill and a bass from this area. Tim caught the bass that we estimated at around 1-6 since we forgot to bring a scale. Dad was the icefishing king as he hauled in 31 of our 56 fish during about a three-hour stay. All fish were caught on ice jigs tipped with waxworms."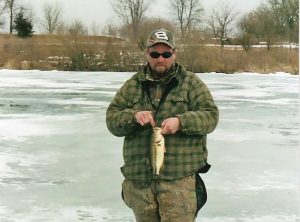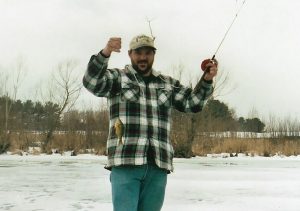 Still plenty of ice out there so will see what the rest of the winter holds in store as I wait for open water. More Blog Banner posts kick in tomorrow to pass the time. Talk to you later. Troy