"When I step out I'm gonna do you in…"
Sharp Dressed Man – ZZ Top (1983)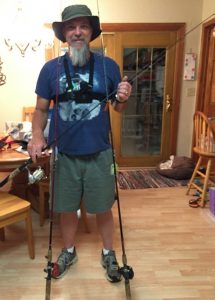 Looking to battle some bass – July 22, 2017
Last weekend I went to the QCCA Outdoor Show up here in the Quad Cities. While attending, I took in a pair of seminars including one presented by a fellow named Jim Crowley of Hook & Hunt TV.com entitled "3 Rigs for More and Bigger Bass." It was an entertaining and informative presentation with the three standard items that I typically take away from such talks.
1. Most importantly, I learned some new stuff. You can't help but do so when listening to and observing folks who not only know their craft but also know how to convey it.
2. It's always cool to get some reinforcement that I'm doing something right when I can nod my head along with what the presenter is laying down.
3. Inevitably there is advice or refinements passed along that ain't gonna happen because I am either too old, too stubborn or too broke. Should I know better in many cases? Absolutely, but I'm in tune with most of what I do and how I do it.
Specifically, one of the comments that stuck with me from Jim Crowley's seminar revolved around an angler also being a hunter. Technically, I do not hunt if we are talking traditional firearm or bow pursuits but as a fisherman I am sure employing many of the same strategies as I look to cross paths with my quarry. Good point, makes sense and never really thought of it that way before.
Good thing is though, as a fisherman you don't have to invest in head to toe camo, face paint, hunting boots, a Ghillie suit, scent blockers and so on. Sure, there's something to be said about a bit of stealth in bass fishing but me and some of the bass population that I chase have become well acquainted over the years.
They know me, I know them, we both do our thing and let the best species win.
So in terms of the attire in today's pic, nothing too fancy, it's just me. Floppy hat Version 2.0 dates back to 2009 and those tennis shoes and shorts will make another appearance later this year in a Friday Flashback post from 2009 as well. I am a creature of habit and as frugal as can be; if it ain't darn near utterly destroyed don't throw it out. The GoPro, however, is a recent addition but it was a much appreciated gift as detailed in an earlier Blog Banner post.
I will let you in on one secret though when it comes to appearance and bass fishing. A secret that I have been working on and experimenting with for probably close to 35 years.
You see that beard?
Well, I figure that a lot of those bass below the surface are looking up towards many of the presentations in my normal repertoire such as buzzbaits, spinnerbaits, lipless cranks and wacky rigs. So, by continuously enhancing the gray in the beard it blends in well with any sort of cloud cover thus boosting the odds that my presence will go undetected. I will also add that the floppy hat is a must on sunnier days as it eliminates any glare from a steadily evolving thinning hairline (guess that's two secrets).
Folks, this is free stuff here but I am available for outdoor show seminars and can be reached at the email address or Facebook link at the top of the page. I'll pretty much be here every night too as this Blog Banner series unfurls.
Talk to you later. Troy