"Not only good lookin', the girl was so smart, can't beat her cookin'…"
Use Ta Be My Girl – The O'Jays (1978)
(Note: Always dug this tune and those lines apply to my wife, Julie. Don't be misled by the title though as she is still my girl.)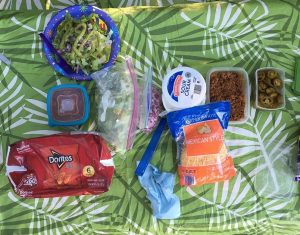 Camping fare fave, taco in a bag/bowl – July 14, 2017
What's a guy look for in a wife?
I guess part of my checklist in terms of outdoor appeal went something like this:
Does she like to fish? Check
Can she set up a tent? Check
Is she okay sleeping in that tent? Check
Is she good with being the one to open gates on occasion? Check
Can she start a campfire? Check
Can she cook without a kitchen? Check
Yep, I got a good one in Julie, all icing on the cake after that stuff I suppose.
And beyond the goods for taco in a bowl/bag as shown above, she also sets us up with camping grub like breakfast in a bag, pizza pockets and omelet in a baggie. Sure beats my old school bachelor camping fare of hot dogs, sandwiches and little chocolate donuts.
We make a good team as her efforts allow me to take the lead on some of the other important camping stuff.
Fishing poles? Check
Tackleboxes? Check
Waxworms? Check
And so on…
Talk to you later. Troy