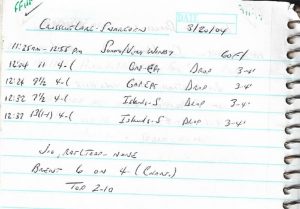 We head back 15 years today with a look at an afternoon of strip mine fishing with a couple of the Brothers Jackson. And for added effect, you get the original post from a larger fishing report originally submitted to family and friends on March 27, 2004.
March 20 – Brent and I head out for Snakeden Hollow for some biking and bassing. Air temperatures were around 60 F with sunny skies and strong winds out of the Northwest. Our first target, Long Lake, was rather disappointing as we failed to catch any bass in about forty-five minutes of fishing. Jigs, crankbaits and jerkbaits all failed to produce. This lake is typical strip mine habitat with steep banks and crystal clear water. Looking for a change of pace we headed up the bank to a shallower lake that had more stained water and more diverse structure.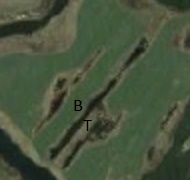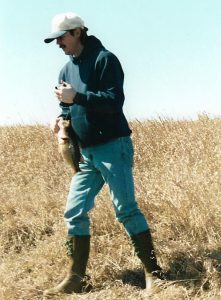 This is kind of fun as I took this shot of Brent's new lake record from "across the lake", not far in a straight line but a long walk in strip mine distance.
We spent about an hour and a half on Crosscut Lake and combined for ten bass. Brent posted an addition to the record book with a 2-10 that hit a Mann's 4- crankbait (chartreuse). The bass also broke the lake record of 2-0 set by Tim Townsend on 3/23/00. All of our fish came on Mann's 4- crankbaits worked with a steady retrieve along dropoffs in 2-5′ of water. Jigs produced a couple strikes without hookups and lipless crankbaits got no attention. After working over this relatively small body of water, we decided to head for Little John. However, we had to bike back to the truck first, directly into some fierce winds. At one point, the wind actually exceeded gravity. We had to pedal to go downhill as the wind was so strong that we couldn't coast. Not exactly a treat paired with my current level of physical fitness.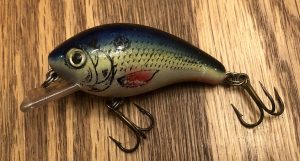 Still have the lure that did the trick per the above database entries but can't tell you the last time it hit the water.
Definitely gets me fired up for another year on the strip mines. It's always a treat to hop between the potholes and fingers that dot the landscape and gets me to wondering about a new look at some of those old places. Lots of ideas, just need some time and open water. Talk to you later. Troy