For today's Flashback we travel back to Father's Day five years ago courtesy of the original fishing report posted on June 20, 2014.
A Father's Day fishing trip can work from a couple different angles for me. For one, I am a father of four children ages 2 to 9. From another perspective, I am one of Dad's four kids ages 41 to 46. So, as if my life isn't full of enough decisions already, how do you decide on which role to assume when selecting a fishing partner(s) for such an occasion? Here's a look at how it all turned out in choosing to fish as a son instead of as a dad.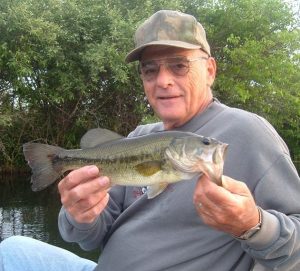 Take your Dad fishing or is Dad taking a kid fishing, worked either way on this outing.
Stats
Date: June 15, 2014
Location: Knox County strip mines (two lakes)
Time: 5:15am-9:00am and 9:10am-12:10pm
Weather: Overcast to sunny/very windy
Air Temp: 62F-75F
Water Temp: No reading
Totals: 42 bass (Dad – 23 bass, Troy – 19 bass)
Lures (Dad): 5" Yamasenko wacky rig (smoke with large black flake) – 22 bass, Zoom Baby Brush Hog (watermelon) – 1 bass
Lures (Troy): Booyah Buzz Buzzbait (Snow White shad) – 11 bass, 5" Yamasenko wacky rig (smoke with large black flake or baby bass) – 6 bass, K9 Walker stickbait (Madd shad) – 1 bass, Spro Bronzeye Frog (Halloween pumpkin) – 1 bass
Top Bass (Dad): 3-4 Senko wacky rig
Top Bass (Troy): 3-5 Buzzbait
Top 5 Weight (Dad): 8-11 (3-4,1-9,1-8,1-5,1-1)
Top 5 Weight (Troy): 13-6 (3-5,3-4,2-7,2-5,2-1)
Top 5 Weight combined: 14-9 (3-5,3-4,3-4,2-7,2-5)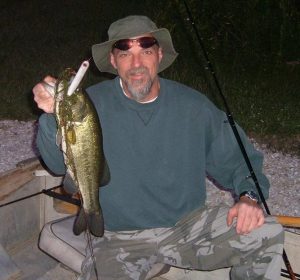 5:15am Interesting and early catch before we even put the boat in the water (details below)
Notes & Nonsense
Debunked? – We've long stated that catching a bass on your first cast is a bad omen as it is all downhill from there, right? Well, Dad couldn't resist a toss or two with his Senko before launching the johnboat so I joined in and fired my K9 Walker stickbait parallel to a nearby weed edge. After a bit of walking the dog I was rewarded with an explosion and a 3-4 on my first cast. It may very well be the best first cast bass on record and marks the second largest bass to eat the K9 Walker, a handmade bait given to me by Frank "Coinman" Harvey (got a 4-3 last year on the bait). At any rate, I got eighteen more before the day was through including one that was bigger (by an ounce). If that's bad luck, it's all good.
5:28am Gotta be happy with two three-pounders in the boat before "official" sunrise
Strong Start – The shot above is really cool considering the fact that Dad's got a good bass and you can still see my truck at the launch in the background. At that point we were a whole thirteen minutes into our morning and we each had a fish tied for Top Bass at 3-4. We've been on more than a few trips that took a little more than ten minutes to score some good fish, if we got any at all.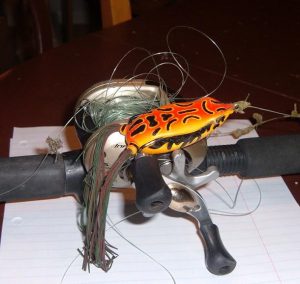 We've all been there as this reel was out of commision for most of the trip 
Frog Birdnest – With a 2-7 from some slop, another interested follow and my eye on some froggy looking spots I was enthused about continuing to give the Spro a go. However, a nasty backlash in the 25 pound mono on the reel coupled with my pool cue of a frog rod put me back on the buzzbait and Senko track. Frogging is prone to more than a little slack in my retrieve and I know better than to keep firing away without an occasional "maintenance cast" to address the issue. Well, I failed to take care of that business so that reel will be getting a brand new batch of line as that mishap certainly qualified as a quality example of what some call a "professional overrun."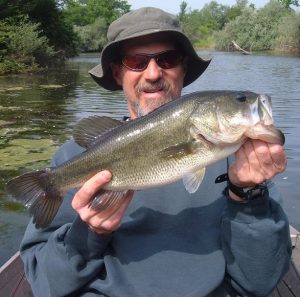 10:06am Our third three-pounder of the morning and Top Bass for the day by one ounce at 3-5.
Ones That Got Away – While we would get a bass to displace our Top Bass by one ounce before the day was through, a couple other contenders came unbuttoned. Both were on Dad's Senko and each were kind enough (or cruel enough) to go airborne and offer a good look. The first was at least four and the second would have been real close to besting the eventual Top Bass of 3-5. I felt our 14-9 creel in under six hours was pretty darn good, but it could have been even better; such is fishing.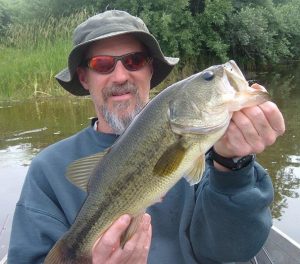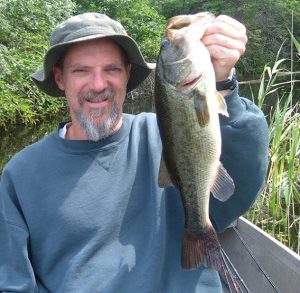 A couple in the two-pound range weren't too bad either at 2-7 and 2-5.
Regardless of whether I chose to play father or son on a Father's Day fishing outing, how could I really go wrong? I will say though that at least my partner of choice took off most of his own fish (I lipped a couple nice ones for him at boatside), rigged up his own rods and made all of his own casts. I also saved money by not having to buy Bug Juice, slushies and a pile of snacks before heading to the water. However, I did still provide transportation on the road and rowed him all around the lakes, got him unsnagged (he returned the favor too), let him have first shot at all the "good spots", carried the heavy end of the boat (hey, it's my story, right)…As always, we had a good time retelling old stories, making some new ones and catching a bass or forty two along the way. Here's hoping the rest of you dads (and sons) had a good day as well.
A bonus bite on the star of the day, the Senko wacky rig.
A winning Father's Day outing and we even fooled some bass as a bonus. Talk to you later. Troy