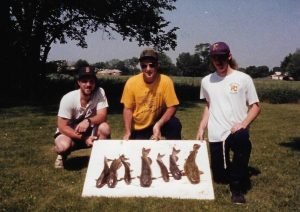 Today we flash back 25 years to a Henderson County bankpole fishing trip with me, Dad and Brent. The destination was a place we called "Pat's Creek" which ran through a stretch of the middle of nowhere in the proximity of Little York, Bald Bluff and Rozetta, if that helps you get a feel for the location.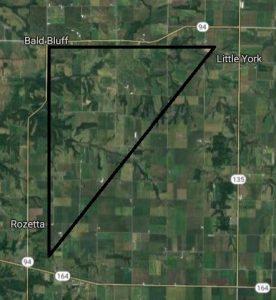 Lots of adventures in this remote triangle, a great place to get lost for many years
Creek Attire 101 – a fine candidate for "creek shoes"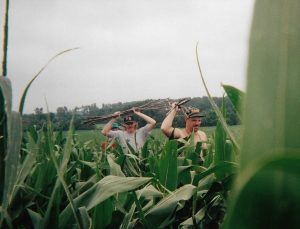 Bearing the tools of the trade through the cornfield to the creek
Beyond permission, all you need are some quality "creek shoes", some cut willows rigged up with line, sinker and hook, some bait (minnows, cutbait, crawdads, worms or even some corn) and a little energy to trek from truck through cornfield and into the creek and back. Oh yeah, a little courage too when it comes to poison ivy, bull nettles, hidden subsurface obstructions, mosquitoes, snakes, snapping turtles and those spots where the water gets to that certain spot in the anatomy that makes you breathe funny.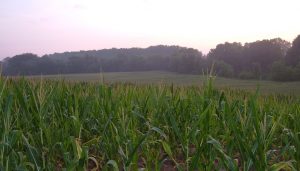 The creek is just over there, at the tree line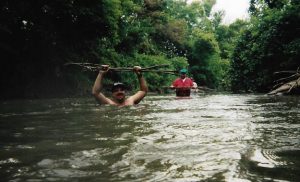 Not quite up to our necks in it but well past that breathe funny spot
Definitely all worth it as your party enjoys the welcome sights of "Pat's House", "The Trashpile" and "Buffalo Head Tree" on your way to "Where We Get In." And before you eventually reach "Where We Get Out" you wade past "The Brushpile", "The Roots", "The Deep Hole", "The Bridge", "The Culvert" and "The German Torpedo" (a story for some other day).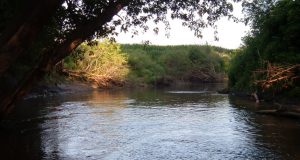 Looking towards "The Riffle" and "The German Torpedo"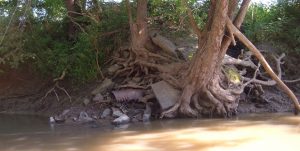 "The Culvert", obviously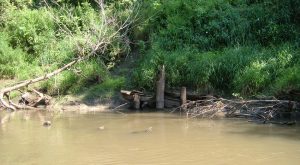 "The Bridge", location of the historic find of the little boat I still drag around the strip mines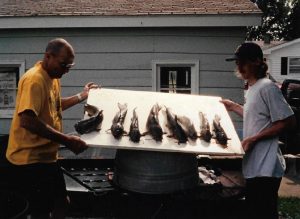 An "in action" pic of our 1994 haul
Always brings a smile looking back at the pics and daydreaming of a summer morning wading the creek (rhymes with "stick", by the way). Talk to you later.