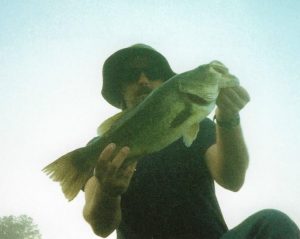 August 9, 1999 still my Club Lake PB (personal best) at 4-12 and speaking of records, read on.
Looks like August from 20 years ago was an overachiever when it came to fishing as this is the third straight flashback from that time period. The August heat can often pose a challenge but those bass are still there, just sometimes a little harder to find and fool.
Early or late in the day can often be your best August options with this bass being a prime example. It was my third catch of the morning, coming ashore at 6:35am.
Topwater presentations can also be the ticket during those early and late windows. And what do you know? This fish came on a legendary lure known as a Zara Spook.
This bass also holds the distinction of being the largest bass that I have landed from a Little John fishing hole named Club Lake.
Each of the above aspects of this catch got me to thinking about the record book I've kept over the years so let's take a look at where today's bass stands in each of these categories and more.
Top August Bass
All-time: 6-8 Brady Junk Henry County Pond 8/29/10 Crankbait
Troy PB: 5-11 Little John Conservation Club 8/21/17 Senko wacky rig
Today's Flashback Bass #5 all-time
Top Zara Spook Bass
5-8 Woody's Middle Pond 9/1993
Today's Flashback Bass #3 all-time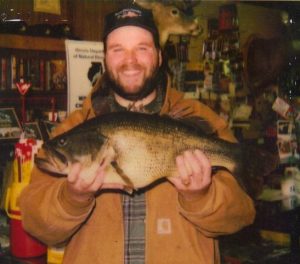 Top Little John Bass
All-time: 8-4 Tim Townsend Little John Conservation Club 4/4/2000 Jig & Pig
Troy PB: 6-2 Undisclosed Lake 3/4/17 jig & pig (black/blue)
Today's Flashback Bass #14 all-time
Top 1999 Bass
5-1 Lake Bracken 9/18/99 Mann's Baby 1- Crankbait (rainbow)
Today's Flashback Bass #2 for the year
I don't know about anybody else but it sure is fun for me to look back through a bit of the record book that I began compiling many years ago. In fact, that record book was the impetus for this whole writing obsession. Back on April 30, 2002 it all started with the line "Introducing the Family Fishing Hall of Fame Newsletter." Still going strong at exactly 1,500 posts later with plenty more to come. Talk to you later. Troy