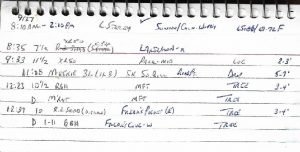 Original log entry from the outing
Today we venture back to a "fall drawdown" outing on Lake Storey. Each fall the water level is dropped, largely as a fishery management practice, and it has been a favorite annual fishing challenge for many years. Below is an abridged version of the original report detailing whether any fish let their guard down at the drawdown.
Originally Posted 10-16-14
My "home lake", Lake Storey, is a little farther from home these days with my family no longer residing in Galesburg. Therefore, me and three of our brood headed down Friday after work to stay at my folks in order to ease the chaos and crankiness of an early morning departure (our little guy, Zac, was sick and stayed home with Julie). As a result, Dad and I were on the water at a reasonable time, making our first casts just after 8:00am.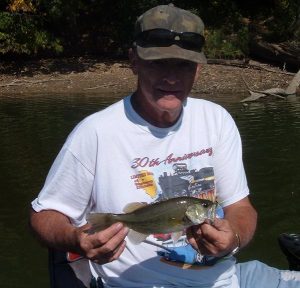 12:26 pm – Keeping it real in a fishing report as they are not all trophies
Stats
Date: September 27, 2014
Location: Lake Storey
Time: 8:10am-2:10pm
Weather: Sunny to partly cloudy/calm to very windy
Air Temp: 65-81F
Water Temp: 69-72F
Totals: 6 bass, 1 muskie
Dad Totals: 2 bass
Troy Totals: 4 bass, 1 muskie
Lures Dad: Muskrat style creature bait – 1 bass, Zoom Baby Brush Hog – 1 bass
Lures Troy: Xcalibur XR50 lipless crankbait (chicken pox) – 2 bass, Zoom Baby Brush Hog – 1 bass, Strike King Red Eye Shad (orange craw) – 1 bass, Strike King KVD Rattling Squarebill Crankbait (natural pumpkinseed) – 1 muskie
Top Bass: Dad 1-11 Zoom Baby Brush Hog
Top 5 Weight (only one bass 12" or better): 1-11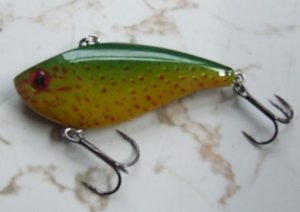 A pattern called "Chicken Pox", these discontinued baits are going for $20 or more online
Notes & Nonsense
Patience – There were several other boats on the water on this pleasant Saturday but nothing that we all couldn't work around in terms of sharing water. A couple muskie anglers beat us to one of our spots so we waited them out before moving in behind. I figured that they were targeting a different species and some different cover than we had in mind so I didn't mind fishing "used water." We were a little bummed when they moved off the first spot and camped on a second spot to eat their lunch. While the first spot let us down, we again waited out their lunch break, moved in and Dad proceeded to nail our Top Bass of the day. It was definitely worth the wait and further reinforcement that we've paid our dues on the lake and learned a couple things.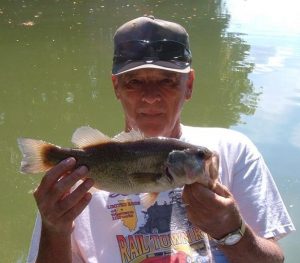 1:30pm – Dad with our Top Bass of the day at 1-11
Make My Day – We'd been on a proven spot for about twenty minutes without a bass when we spotted another boat fishing towards us. Our spot was a traditional winner but we'd pounded it good and I didn't want the other anglers to hit another spot I wanted to fish on the other side of the lake so I decided to make a move. Now, a fishing day is made up of a lot of decisions, not all of which pan out; that's fishing. In this case, however, on about my second cast after relocating I set the hooks of my crankbait into something that didn't move. A few seconds later, I hollered "Muskie!" to Dad who went for the dipnet. The fish put up a classic fight with a couple line stripping runs, an exciting (and worrisome), completely airborne leap and managed to evade our dipnet twice. But the 12-pound Trilene survived, the hooks held and Dad scooped him in, luck was on our side. In terms of the fortuitous move though, I'm still torn on whether we were lucky or good. Then again, it doesn't really matter, we got a fish that made our day, shot a couple pics and released it to fight again.
11:08am – One of those good, old Lake Storey bass fishing "accidents"
Second Chances – We revisited the proven spot noted above for another shot about an hour and a half after moving off and happening upon the muskie. True to form, a couple Lake Storey bass that called the place home were now in a biting mood. Dad and I each pulled one out with his on a muskrat bait and mine on a Zoom Baby Brush Hog. A productive Round Two confirms another Lake Storey fact (and general bass fishing approach) that if you've got a good spot it is wise to pay a couple visits in order to increase the likelihood that you'll be in the neighborhood when they decide to bite.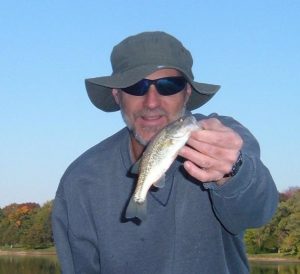 8:35am – I've got lures that are darn near as big as this small bass
When combined with last week's strip mine report, me, Brent and Dad landed 141 bass and a muskie in two trips. Two trips that were like night and day in terms of quantity (135 bass vs. 6 bass) but I'd actually be hard pressed to decide which trip was the best. 135 bass are cool but when they are really dumb you don't feel really smart and while 6 bass is a tough day when they are extra wary you feel extra wise. And a decent toothy critter don't hurt either; tough call.
A tough bass bite in terms of both quantity and quality but you'll have that, it's fishing. Just keep on casting though as evidenced by this outing as our best bass was the last catch, over five hours into our day. Talk to you later. Troy