Shout out to a young angler this week for his contribution from a weekend outing under less than ideal weather conditions. Good job getting out there and well done in landing an impressive late season catch.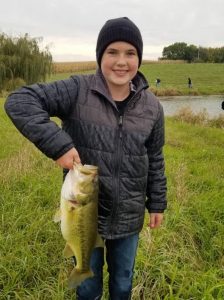 Weight: 4-3
Angler: Landon Hannam
Date: October 26
Location: Private Pond
Lure: Strike King Bitsy Bug Jig (Cajun Crawfish)
Angler Comments: About 20-30 minutes into the tournament I hadn't had any bites and this big guy came around and munched it. Had another big one get off. I managed to win the big fish award by an ounce. Pretty good fish to end the fall tournaments.
Top 5 Weight: 10-1 (4-3,2-7,1-4,1-2,1-1) culls a 1-0
Landon landed his bass while fishing with the United Junior High School Fishing Club. His bass took top honors and through a connection I was able to obtain a couple photos of the well-deserved hardware. Pretty cool.
Top 5 contributor, Chris Schwarz, is the ringleader of the United Junior High School Fishing Club. I'd like to give a shout out to him, those who assist and the landowners for their efforts in putting together a program to get some kids outside chasing fish.
It looks like the weather is going to take a dip so time will tell if we are able to fool any more Top 5 fish. I've got my fingers crossed for a shot at a November bass but regardless of the outcome there will still be plenty of outdoor stuff here on the website. Talk to you later. Troy