The Top 5 is back for a seventh year, so time for the annual invitation and rundown of the "rules."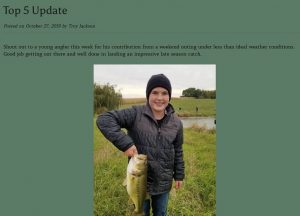 FAQ
What is the Top 5?
It is our own virtual brag board. Think of it as an online baitshop counter of scattered Polaraids with the catch info scribbled on them.
Who can participate?
Anybody, as we have had anglers from 8 to 80 submit their catches.
Where do I sign up?
No official sign-up needed just email your name (or pseudonym if preferred), picture (nice to include the angler but not absolutely necessary) weight of your catch (to nearest ounce preferred but at least one-quarter pound increments) and any details (see sample below) to the following:
troy@troyjacksonoutdoors.com.
What kind of fish are included?
The last couple years we have expanded after originally only targeting largemouth and smallmouth bass. Any freshwater catch is now encouraged as we track each species. Weight data is preferred but length is also acceptable and tracked separately.
Does the fish have to be caught by rod and reel?
Yes, to maintain consistency no catches via bankpole, trotline, jug, handfishing and such are eligible. Nothing against these approaches, we just stick with rod and reel.
When do the catches get posted?
Each Monday is set aside for a Top 5 Update if we have submissions. In addition, I try to post a monthly stat update including the breakdowns below and more.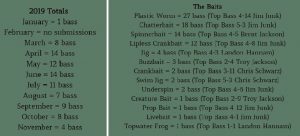 What info should accompany a submission?
Weight/Length: I record weights in pounds and ounces such that 5-4 equates to five pounds four ounces as opposed to decimals so I ask that submissions be reported in this fashion to avoid conversion and/or confusion. For length submissions let's go with the nearest half inch.
Lures/Bait: if you aren't willing to reveal specifics such as brand, model, presentation and color, a generic category such as spinnerbait, plastic worm or crankbait would be appreciated. Chicken liver, stinkbait, dew worm, cutbait and so on work just fine as well.
Location: if you don't want to say "Emiquon Preserve" just go with Fulton County and a designation of public or private would also be of interest. Even West Central Illinois strip mine or Eastern Iowa stream would be beneficial if you prefer not to be too specific.
Date: can't see much of an issue with this aspect but I guess I'll just list it as the date I received the submission unless otherwise noted. Once again though, the more accurate the better in my book.
Name: totally up to you whether you want to use your real name or a nickname, just let me know what you prefer.
Photo: A PIC IS REQUIRED so have your cameras or "phones" at the ready. After all, part of the premise of this entire project is to show more fishing pictures on the website than just my little bass. Whether you put your mug in the frame is your choice.
Angler Comments: if you've got a story, something weird or otherwise interesting to pass along with the catch, by all means, include your tale. Same goes for structure as it is fun to hear if the fish came off a point, alongside a laydown, amidst a patch of lilypads and so on. I will be happy to use your description, as written, in the periodic updates so don't use any "bad" words, that way I don't have to spend time editing.
And here is the general process:
Step One: You catch, weigh/measure, document and photograph a fish that resides in your Top 5 heaviest of 2020.
Step Two: Send your pic and details to troy@troyjacksonoutdoors.com.
Step Three: I track the catches and photos in order to provide periodic updates (typically each Monday) as you build your Top 5. (Note: you send each fish as you work towards a Top 5 rather than waiting until you have five, unless, of course, you wipe 'em all out on your first trip).
Step Four: Repeat the above, replacing (or culling to use a tourney term) smaller Top 5 fish as larger ones join your ledger. For instance, say your Top 5 by May 1 is as follows: 3-4, 2-7, 2-3, 1-12 and 1-11 for a total weight of 11-5. Then on May 6 you reel in a 3-3 so out goes the 1-11 and the total weight bumps up to 12-13. Same concept for length submissions.
Finally, here's a sample submission below.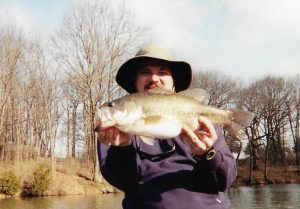 Angler: Troy Jackson
Weight/Length: 4-0 (20″)
Location: Lake Storey
Date: April 4, 1999
Lure: Spinnerbait (blue glimmer)
Angler Comments: Dad and I were able to sneak away for a little Easter Sunday bass fishing on our "home lake." My only bass of the day and first of the year but a cool way to kick it off, came on a perfect setup as I slowly ran my spinnerbait parallel to a submerged log, just like you read about in the magazines.
With the 2020 Top 5 intro completed look for the final wrap on the 2019 Top 5 coming your way soon. Talk to you later.  Troy