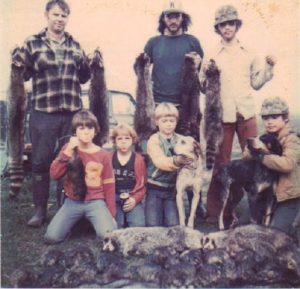 This photo is easily the most ancient of this series. It was taken in November of 1976 during part of a two day trapping/coon hunting outdoor adventure. The location in the picture is Henderson Creek in Warren County somewhere near Angling Road, southeast of Alexis.
The sheer number of outdoorsmen (and boys) that took part goes a long way towards making this a classic. My uncle, Richard Jackson, was the photographer and those in the picture are as follows: front row from left to right – Brad Burt, Troy Jackson, Ronnie Van Fleet and Greg Smith. Back row from left to right – Bill Burt, Terry Jackson and Jody Jackson. The dogs are Buck and Susie from left to right. Also included on the adventure was a friend of Dad's named Bob Coe who joined for the coon hunting portion.
Having been rather young at the time, I have only vague memories and had to recruit Dad for some help on this one. It seems that the agenda began with the crew setting traps in some Henderson County creeks. We then returned to a spot we called The Big Timber which would serve as our home base for some supper, apparently chili or stew that required only a fire for final preparation. The evening culminated in a group coon hunting excursion with a couple adults herding us kids back to camp before the rest of the coonhunters called it a night.
Accommodations were an old machine shed with evergreen boughs covered with canvas tarps to serve as makeshift mattresses. Blankets and sleeping bags rounded out the setup as a final barrier between the adventurers and the elements. The following morning, breakfast was donuts or rolls before heading out to run traps culminating with the picture of our load of fur.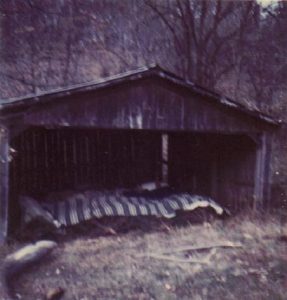 Our deluxe accommodations at The Big Timber "Lodge"
Were that all that this photograph means to me, I would fall well short of my "1,000 Words." Although my memories of this specific moment in time are mostly lost, the photograph represents other memories that were a substantial slice of growing up. Tastes and interests influenced by several of my fellow adventurers remain with me to this day and are being passed down again whether intentionally or inadvertently.
Dad and Uncle Dick are no doubt at the top of the list and their influence runs through all of my past articles and will continue to surface as long as I keep writing. So, for this posting, I'll focus on two of my fellow "youngsters" in the photograph (although it's funny to think that I'm now older than any of the grownups were at the time).
My cousin, Ronnie, is decked out in his Oakland A's jacket that I thought was just about the coolest coat around. However, the heyday of some outstanding Oakland clubs had reached its end by 1976. Brash and sometimes bizarre owner, Charlie Finley, had already traded away Reggie Jackson, and "Catfish" Hunter. Sal Bando, Gene Tenace, Bert Campaneris, Vida Blue, Joe Rudi, Billy North, "Blue Moon" Odom, and Rollie Fingers (with his unforgettable trademark handlebar mustache) would soon follow. Such a talented bunch of players, the stuff of legend even to a youngster who was genetically predisposed to be a Cubs fan.
Ronnie was like another brother in our family in those days and we spent weekends and summers getting up to various hijinks. Both of our homes were located near Cedar Fork, a creek (rhymes with stick) that snaked its way through Galesburg and provided ample opportunity to explore and make a mess. We were also frequent visitors to the neighborhood Park Drive dairies for sports cards of all seasons and Saturday morning donuts when finances permitted.
Music and baseball ruled our summers. We consumed a steady diet of pop and rock, enamored by hits such as "Rubberband Man", "Why Can't We Be Friends", "The Things We Do For Love", "Lyin' Eyes", "Rhinestone Cowboy", "Convoy" and "S-A-T-U-R-D-A-Y Night." We tagged along with Dad to softball games, celebrated my birthday in the July heat and played baseball all day with my younger brother, Brent, as designated hitter. Summer also meant the eagerly awaited arrival of the MLB All Star game where all of our heroes gathered. Willie Stargell, Johnny Bench, Lou Brock, Mike Schmidt, Pete Rose, Tom Seaver, Jim Rice, Robin Yount, George Brett, Carl Yastrzemski, Rod Carew; maybe I'm just getting old but today's players don't hold a candle to the legends of my childhood.
My cousin, Jody, was eight years older and at times seemed like more of an older brother. He introduced me to a lasting 70s and 80s sampling of the arts. Literature included Edgar Rice Burroughs' John Carter of Mars series, which was originally published in 1917 (Burroughs is perhaps better known for creating the enduring character, Tarzan). I also became acquainted with a myriad of characters created by J.R.R. Tolkien and while Jody's comic book collection would rival my baseball card collection, I was never bitten by that bug.
There were also films such as "Blade Runner" (1982) and "Escape From New York" (1981). Three others remain among my all-time favorites to this day; "An American Werewolf in London" (1981), "The Thing" (1982) and "Excalibur" (1981).
Music was also a shared passion with "Billy Don't Be a Hero" and "Band on the Run" standing out in my mind along with the risqué (for a kid in 1974) novelty hit "The Streak." AM radio dominated the airwaves with Chicago's WLS 890AM leading the way in our neck of the woods. The WLS roster featured Larry "Uncle Lar" Lujack, John Records Landecker and Tommy "Little Tommy" Edwards along with spots such as "Boogie Check" and "Animal Stories" where I'm sure much of the humor went right over my head. Of course, New Year's Eve was spent with the radio for the highlight of the year, "The WLS Big 89 Countdown."
Jody also informed me that the strange song that sounded like nothing I'd ever heard before was called "Bohemian Rhapsody," whatever that meant. Later I remember listening to his recently purchased copy of "Double Fantasy," John Lennon's 1980 return to the music industry, released a mere three weeks before he was assassinated outside of his New York City apartment building. "Watching The Wheels" remains one of my all-time favorite songs to this day.
Well, for today's post, my "1,000 Words" (and then some) certainly wander from the outdoors. Although I have only fleeting memories of the adventure associated with today's picture, it conjures up other memories that explain some of my philosophies, tastes and pursuits.
Such as…
It's important to take time to include the next generation (now it's my turn to set an example).
I much prefer outdoor activities to being cooped up inside (writing helps me pretend nowadays).
Baseball is still "America's pastime" (despite not taking very good care of itself).
There's nothing like getting lost in a good book (they're always better than the movie).
A good movie never gets old (but read the book if time permits).
I'd take tunes over television any day (hence a home with rabbit ears, one TV and half a dozen radios).
I'll leave you with a few lines from the 1975 Top 5 hit, "Old Days", another of my all-time favorites, courtesy of a band that was formed in The Windy City and eventually named itself after the hometown of WLS; Chicago.
"Old days, good times I remember,
Fun days, filled with simple pleasures,
Drive in movies, comic books and blue jeans,
Howdy Doody, baseball cards and birthdays,
Take me back to a world gone away,
Boyhood memories seem like yesterday."
A few simple lines say it just as well as 1,294 words. Oh, to be a songwriter. Talk to you later. Troy