Today's flashback reinforces that this writing/blogging hobby has been a worthwhile undertaking. Sure, I remember this fishing trip but only in a general sense. I know we caught a handful of bass, I'm sure there were some fish stories told and I suspect that there were also a few laughs along the way. However, by putting it down in a log and a blog, I can revisit some of the otherwise forgotten details.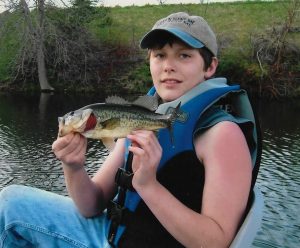 Originally posted as "Tagging Along" on April 25, 2011
This time it was the "grown up" taken on a fishing trip by the youngster.
While I'm technically an adult, I sure felt like a kid all day as I waited for 3:00 pm to roll around so I could finish my work and move on to play as my friends the Junk family (more specifically twelve-year-old Brady) had invited me out to the local fishing hole. Brady and I would spend around an hour and a half chasing bass from boat rather than bank with hopes riding high since we could reach all those formerly inaccessible places. A late bite saved the day, but we were unable to fool any of the lunkers that call the pond home. However, it was still an enjoyable evening of fish stories, tall tales, and tips as I tuned into my young guide.
Stats
Date: April 23, 2011
Location: Junk's Pond
Time: 5:45pm-7:15pm
Weather: Overcast/windy
Air Temp: 55F
Water Temp: not available
Totals: 8 bass (Troy – 5, Brady – 3)
Lures: Strike King Red Eye Shad (orange craw) – 4 bass, Rat L Trap (red crawfish) – 1 bass, Storm Wildeye Swim Shad (firetiger) – 1 bass, shallow crankbait (green) – 1 bass, 5" Yamasenko wacky rig (natural shad) – 1 bass
Top Bass: 1-9 (Troy)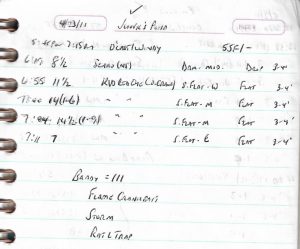 Notes & Nonsense
Quality – Our trip reinforced much of what I've learned about this hobby in the 30 plus years since I was Brady's age. Sure, it's good to land a trophy or two but I enjoyed the conversation as much as anything. It was fun to discuss lures, techniques, memorable catches and so on as we picked each other's brains. That's not to say that there isn't good conversation with my usual fishing partners (my dad or brother) it's just that we've covered a lot of this ground beginning long before Brady's parents even met.
Squappie – Among the tales was one involving an odd creature that Brady and his fishing buddy, Michael, described to me. According to these young anglers it is part squirrel/part crappie and has been spotted running around the bank before plunging into the pond and disappearing below the surface. The tables were indeed turned as in my experience it has always been the adults filling up the kids with such strange stories. I won't commit on the mystery either way beyond saying that I pointed out a muskrat at one point and the boys were unimpressed.
Royal Treatment – It's tough to beat a fishing trip where your hosts provide you with a check along with steak, baked potato and more for supper. There's actually a little more to the story but the above sentence makes me sound important, so I'll just leave it at that.
Paying My Dues – The fish didn't cooperate as much as we'd hoped, and the big ones stayed in hiding. I'll blame it on the crazy weather, but I suppose it's only fitting that the pond did not give up too much to a newcomer. I just feel bad that my guide had to pay the price with me; you'd think the bass would've showed off in some sort of home lake advantage.
Parting Shot – As I pulled out around 9:00 pm to head home, Brady and Michael came running after the truck hollering something regarding what I thought was a "reel." I slowed and rolled down my window thinking that perhaps I'd left something behind. Instead, one or both boys were taunting me by yelling, "Bigfoot isn't real!" Too funny, as they have evidently been informed of my fascination with the hairy giant dating back to the mid-70's. 
I had a great time and look forward to tagging along again. I spent the drive home daydreaming in the dark pondering just how to turn eight smallish bass into a blog posting. But you know, the beauty of this whole writing thing is that the fish are sometimes not the most important part of the fish story.
And plenty of fish stories over the years with Brady's family. Starting back in the 80s, I fished with his dad and one of his uncles. In the 90s, I also fished with his mom. In fact, once upon a time she was out with me in my little boat when she was about eight months pregnant with Brady's younger sister. And these days, another of Brady's uncles is the top contributor to the Top 5 project. Good people and good times. Talk to you later. Troy