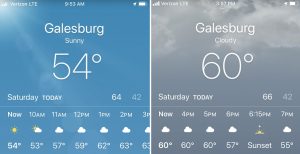 A Lake Storey fishing report in the Inbox last Friday from my friend, John Kirkemo, and a reasonable Saturday forecast made for an impromptu trip back down to Knox County's Lake Storey to chase those wily bass. Glad I could swing it as it's always a treat to fish my "home lake."
Stats
Date: October 19, 2019
Location: Lake Storey – Knox County, IL
Time: 10:05am-3:35pm
Weather: Partly cloudy to overcast/breezy to calm
Air Temp: 54-60F
Water Temp: 55-56F
Totals: 10 bass
Lures: Strike King 2.5 Rattling Squarebill crankbait (sexy shad) – 6 bass
Mann's Baby 1- crankbait (red crawfish) – 3 bass
Booyah Blade Spinnerbait (bluegill) w/ twin tail trailer (smoke) – 1 bass
Top Bass: 1-11
Top 5 Weight: 7-4 (1-11,1-9,1-8,1-4,1-4)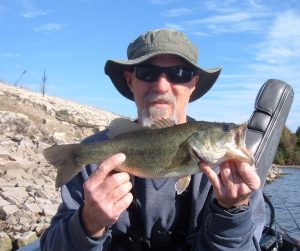 10:18am First bass and Top Bass 16″ 1-11 Crankbait
Notes and Nonsense
Drawdown V2.0 – An abundance of September rain negated the annual post Labor Day drawdown of Lake Storey bringing the water level back to near normal pool. Interestingly, the city opted to pull the plug a second time resulting in the lake being back to nearly full draw for this outing. I found this to be an encouraging decision as I understand that the practice of lowering the lake level has been debated at times. Here's hoping that the annual drop continues as a fishery management tool and does not get vetoed by those who find it aesthetically unpleasant. For me, it is quite an attractive bit of added contrast between the lake surface and the changing foliage lining the bank. In addition, I find it much more appealing than the extensive beds of aquatic vegetation that ring much of the lake beginning in mid-May. And it's good for the fishing. What's not to like?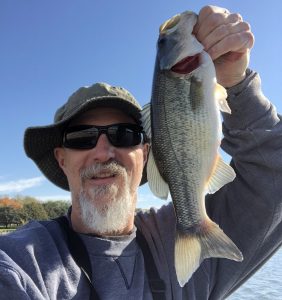 10:35am 15″ 1-9 Crankbait
Lonely Lake – October is an interesting time to fish as many folks either put away their gear or have other things to do. I'm not much into college football anymore so on a Saturday like this day, well, I'm not missing a thing. On this pleasant mid-October morning I arrived to a deserted boat ramp and was joined as I launched by friend and Top 5 contributor, John Kirkemo, who arrived with his boat in tow. We essentially had the lake to ourselves as I observed one other boat of crappie anglers who had launched at the other end of the lake along with a kayak angler. Shortly before 3:00pm another boat showed up and we left the lake to that angler shortly thereafter.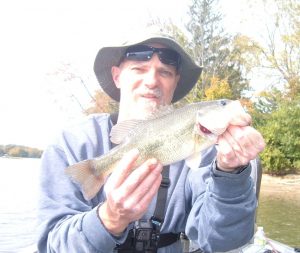 11:39am 14″ 1-8 Spinnerbait
Rock, Sun, Wind, Depth – A riprap bank hit by direct sun and a fair wind with deep water in close proximity is a fall winner and it came through quite well on this trip. Five of my ten bass (and another lost at boatside) came during an early and late pass along this stretch. One other shallower area with a pile of cinder blocks did give up a pair of bass and is always an interesting spot. I caught one bass on the initial pass but always make a cast back to the debris after I have drifted past, and right on cue, the first cast got me a second bass from the structure.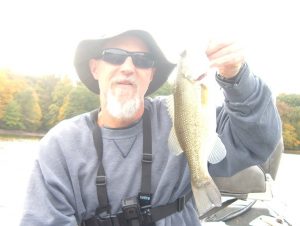 12:33pm 14″ 1-4 Crankbait
Wood Not so Good – Unlike my last visit in mid-September where spinnerbaits dominated the haul, the bite was lean on this outing. While I felt the water temps still held promise for the lure, the low water just left too much wood exposed or too shallow for the lure to be effective on my regular spots. No problem though, as crankbaits came through just fine.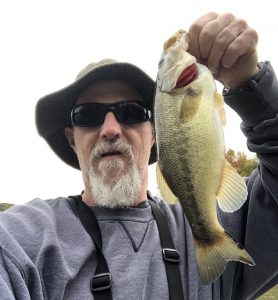 1:34pm 13.5″ 1-4 Crankbait
It looks like the weather is going to take a dip as one would expect so this will likely be my final shot at the Lake Storey drawdown. Once again, a good challenge and I feel we turned in a respectable showing over three visits. One thing lacking, however, were teeth as we failed to turn up the accidental muskie or walleye. Maybe next year.
Next up in the "Friday Flashback" series is an entertaining 80s tale that we'll revisit with the help of an old friend as a guest blogger. Hope you'll stop back by to check it out. Talk to you later. Troy