I first caught the bass fishing bug when I was a teenager in the early eighties. From then until about the mid-nineties, I typically put away the fishing gear sometime in September. Looking back, that was a mistake, but it was a different time with different distractions. Today's flashback provides proof that good bites are out there if you keep on casting.

Excerpts from original October 29, 2002 post
I decided to hit Emstrom's Pond today (10/28) despite less than favorable conditions. A string of chilly weather and winds from the north and east typically provide for a tough bite. I prepped myself by thinking that anyone can catch fish under good conditions and today would be a challenge. I chose Emstrom's for its proximity (it takes longer to load my gear than it does to drive to the pond) and its history. The plan was to fish for an hour or so and I was basically looking for one bite. That may be the only chance you get on a day like this, and you just hope your reflexes are sharp.
The cold front/late fall pattern at Emstrom's is pretty simple. Row directly to The Beaver Lodge, anchor deep and toss a 1/4 oz jig (black/blue) with a #11 pork frog (blue, black, or purple). If this fails to produce, either move in closer or fish some weed edges before returning for a closer shot. I arrived around 1:50 pm, rowed to The Beaver Lodge, anchored, and cast my jig with a black pork frog. A telltale jump in my line before the lure hit bottom meant something below was hungry. I set the hook twice for good measure and the fight was on. A flash of white let me know it was a good fish and I shortly had a 3-5 bass in the boat. It was 1:58 pm. He was hooked solidly in the roof of the mouth with the entire bait inside of his mouth. Following a couple pictures, he was released to be caught again. We often joke about catching a fish on your first cast and view it as a bad omen. I'm not sure if the statistics would provide any proof, but it seems like we have a slow day after catching one on the first cast. In fact, I laughed after catching this fish, wondering if I should just pull up the anchor and head for home.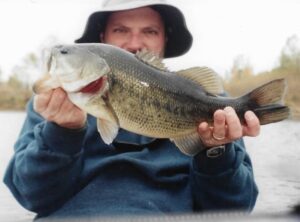 1:58pm – Top Bass Runner-up at 3-5 (18.5″) on a jig
I elected to stick around. I retied my jig since the bass had inhaled the lure and potentially caused abrasions with its teeth during the fight. Another twenty minutes produced no other bass although I set the hooks on a couple casts when things on the other end just felt weird. Remember, "When in doubt, set the hook." The wind had switched directions a bit, so I decided to row to the dam and cast the weedline as I drifted back towards The Beaver Lodge. My weapon of choice was a 3/8 oz Stanley Vibra Shaft Glitter Series spinnerbait (blue glimmer) with a twin tail trailer (white), one of my favorites. Several casts produced nothing but a handful of weeds. Then I noticed fish working the surface and figured they were probably crappies. The last time out at Emstrom's (10/21), I caught a nice crappie on a Mepp's #5 (Rainbow trout/white), so I decided to try it.
A couple cranks into my first cast with the Mepp's and I had a hit. I set the hook and initially felt only slight resistance. I quickly reeled as the fish swam at the boat until it turned broadside, giving me a good look at a large bass. I kept my rod tip high as the bass tried to bury itself in the remaining weeds. I had lost a fish earlier this year when it pulled the same stunt, and I was determined to outsmart this one. I was sitting in only about three feet of water, and I wanted to keep the fish near the surface. The fish earlier in the year had hit bottom and gained the necessary slack to get away. I knew better this time, kept the bass from diving and was able to land it successfully.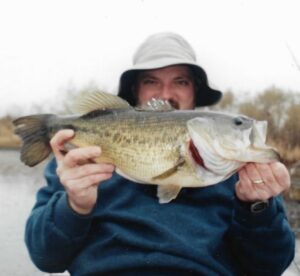 2:37pm – Top Bass at 4-4 (21″) on a Mepps spinner
The fish had a large head and mouth leading me to believe it was undernourished or ill, and probably would have been heavier if healthy. Regardless of its condition, it measured 21″ in length and weighed in at 4-4. I snapped a pair of photos and released the fish. I later realized that my camera had switched from auto to spot focus (probably when kicked around the boat fighting one of these fish), so I'm interested to see how the pictures turn out. They could also be interesting considering the bass was defecating all over me as I took the pictures. Can't say that I've ever dealt with this before, but it probably lost a couple of ounces (fortunately it was weighed before pictures). I had quite a mess all over my rain pants and sweatshirt. For those who care, it resembled bird droppings and had a smell like the nasty black mud you find on the bottom of lakes and ponds. I worked the rest of the weedline and tried The Beaver Lodge a second time without getting any bites. A last effort was made along a deep weedline near the dam. I had one bite on the jig, but it got off shortly after the hookset.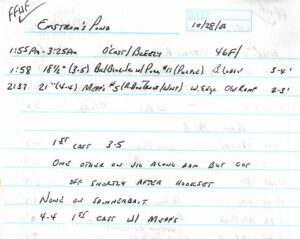 Original log entry from October 28, 2002
A productive day during less-than-ideal conditions. Fortunately, I had a couple free hours while Julie was doing some things for work, and I had most of my errands done. Might as well go fishing. Then again, it's 46 degrees, overcast and windy. Maybe I'll watch the news, explore the internet, work on outdoor articles, or do something around the house. No, I can do that stuff when it's 20 degrees and windy. After all, I've got gloves to warm my hands when needed, a thermal and a sweatshirt, insulated boots, and a rain suit to handle the wind. I'm glad I went.
There you go. Don't put those poles away quite yet. Time will tell if I am able to follow my own advice, but I always have my sights on a November bass before I call it a year. Stay tuned and talk to you later. Troy