Jim Junk is back with another impressive catch that leaves him one bass shy of having his initial Top 5 completed. Quite a start as we aren't even to mid-March. Read on for the details on his latest submission.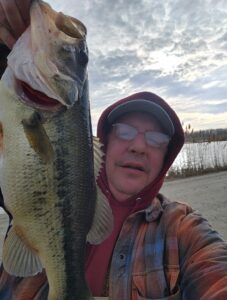 Weight: 4-5
Angler: Jim Junk
Date: March 11
Location: Banner Marsh
Lure: Lipless crankbait
Angler Comments: You could probably subtract twelve ounces and copy and paste the details from last week. Lipless crankbait on the second cast at the same spot and no other bites the rest of the time throwing various lures and presentations.
Top 5 Weight: 16-0 (5-1,4-5,3-9,3-1)
(NOTE: Our all-time Top 5 Bass total now stands at 973 as we push towards Bass #1000)
Well done, Jim, and here's to that next submission being a four-pounder to push your initial Top 5 to the twenty-pound limit.
On a side note, the Top 5 Update will be moving to Fridays soon instead of the usual Monday post. This is to accommodate a new series that I hope to kick off this month. Stay tuned and talk to you later. Troy