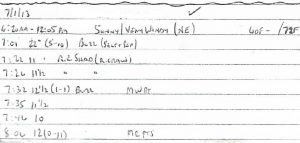 How's that for a first bass of the morning?  Read on for the backstory and recap.
Okay, so this week's flashback draws upon a couple posts from late spring/early summer of 2013. First up, this blurb regarding a buzzbait blast from June 7, 2013:
The One That Got Away – Sometimes you see them, sometimes you don't. Sometimes you hook them, sometimes you don't. Sometimes they break you off, sometimes they simply let go and sometimes they just plain swing and miss. And when that swing and miss is on a buzzbait it can sure leave you lamenting what might have been. That was the lingering thought after a huge explosion on my buzzer as it blazed the edge between a drop and an extended shallow point. Now, I've been doing this long enough to know that you can't always judge a fish by the strike but I'm pretty sure that this one was something special. Such is the quest, but knowing that this fish is not entirely above a moment of weakness I'll definitely visit that spot again with an undeniable extra dose of anticipation accompanying each cast.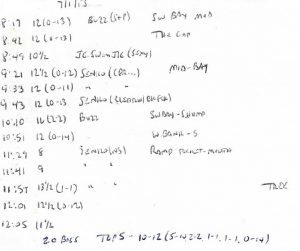 Part II of the fishing log shows it was a pretty solid morning.
Flash forward for today's trip back in time to my fishing report from July 1, 2013:
Slow Start – I like to be on the water at daybreak in the summer if I can swing it looking for an early bite in the typical dog days. I was a bit late upon missing my 4:04am alarm and not actually waking up until 5:05am as all these kids just flat wear out parents. The extra hour of sleep was just fine though since I was flying solo. Even late, however, it still seems like I wake up before the bass many times and this trip was no exception. Therefore, it was forty minutes before I got any action, but it was worth the wait.
7:01am – Same bass as my June encounter?  Will never know, but sounds like a good story and I'm all about those.
Second Chance? – Those forty minutes evaporated when a bass smoked my buzzbait with its tail thrashing the surface leaving no doubt it was a good one. Fortune smiled on me this time as I lipped the 22" fish that weighed 5-10 and then wondered if it was perhaps the second chance I referenced in today's intro. The bass hit the same bait about fifty yards and one extended point away from the June miss so you just never know. I was so pumped that my hands were shaking as I weighed, measured and photographed the bass before letting it swim away to grow up. That sort of stuff never gets old.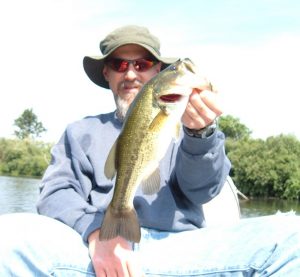 10:10 am – A nice runner-up for the day but just a bit lighter than the Top Bass.
No Sweat – 2013 continues to be an odd weather year as I started the day with a sweatshirt over my t-shirt and never changed despite rowing and working the anchor the old fashioned way. It was truly hard to grasp that it was July 1 and I only ditched the sweatshirt at high noon while loading the boat in the back of the truck. Mind you, this is not a complaint as I increasingly enjoy the milder temps as I put a few more years behind me.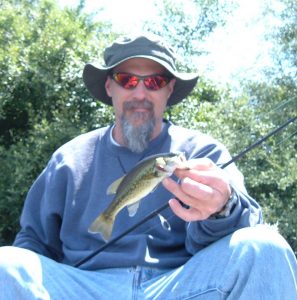 11:29am – Gotta give the little ones a photo op from time to time and this was a trophy small bass.
What a difference five years makes. Scorcher this year and haven't been able to fish since Father's Day and likely off the water for a bit longer, just too much going on. But no fishing obviously doesn't mean no writing as I've got plenty to pass along. Another Top 5 Update on the way (Tuesday this week instead of Monday), a baseball/fishing combo project in the works and a change of blog scenery on the horizon. Hope you'll continue to take a peek. Talk to you later. Troy