Okay, so we're talking the lure not the band or the location despite what I considered an entertaining tease on Facebook yesterday.  If nothing else, I amuse myself, not really too hard to do, but hopefully also hooked a few of you to get you over here on the blog.
Anyway…
For as long as I've considered myself a bass fisherman, the blitz of can't miss, latest rage, new thing lures have certainly caught my attention.  Slug-Gos, Banjo Minnows, Flying Lures, The Tornado, bladed jigs, giant sized (and priced) swimbaits and even a wacky looking worm rig have all sought to empty the piggybank with the promise of filling the livewell.
Skipped some, bought some, some worked, some didn't, still got some of them stashed somewhere in the tackle collection and that crazy looking worm setup is on the end of one pole pretty much every outing.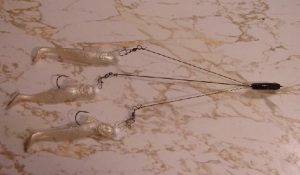 Alabama Rig (note: hook clipped on top lure to meet Illinois' two hook regulation on most bodies of water)
And I've also got me a lure that was banned by Bassmaster and restricted in my own home state of Illinois.  While referred to as an umbrella rig, multi-rig, 3-way rig, 5-way rig and a multitude of other names from various manufacturers I like to call it by the original designation, "Alabama rig."
I threw it around last November without fooling anything and have only landed one bass on the contraption, an 11.5 incher back in 2014.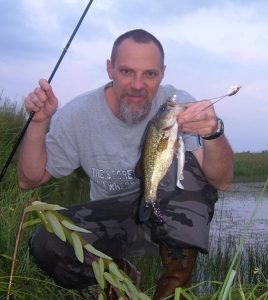 7/6/14 at 5:53am 11.5″, my one and only Alabama Rig bass, therefore, the record…for now.
So for 2017, my resolution is to set a new Alabama rig personal best.  As you can see from the above photo, size wise that ain't a very tall order.  However, from a confidence standpoint it could be a challenge in selecting this lure when I'm used to throwing something else.  Yet I do have a handful of numbers lakes or off the beaten path fishing holes where I just might be able to pull off this proposed "record" catch as the fish are either unpressured, dumb, or both.
Hopefully the new record will be coming your way in a fishing report sometime down the road.  In the meantime, another resolution coming your way tomorrow.  Talk to you later.  Troy