A camping trip to Little John Conservation Club (as described in yesterday's post) also means some fishing for young and old.  Today we'll take a look at how the youngsters fared.
A 7:45pm arrival at the campsite makes for a bit of a narrow window of daylight to wet some waxworms with the kids and see what we can fool.  After setting up the tent, that window was even more limited as we didn't get our first casts in until about 8:25pm.  But it sure didn't take long to get some positive feedback as the time on the photo of the first fish of the evening showed as 8:28pm.  Three of our four anglers took a shot (Carly, Jayce and Zac) while Helena sat this one out and assisted Julie with settling in.  Here's a look at some of our haul.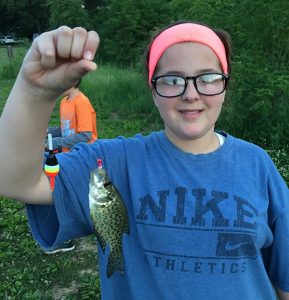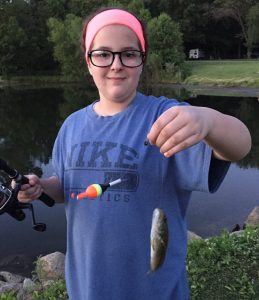 Carly's first ever crappie followed shortly by first ever bass
Carly wound up as the last fisherkid standing, catching her final fish at a point where we could barely see the bobber.  It was right about the time when the eyes start playing tricks, faking us out numerous times before one last hookset actually produced a catch.  All she needed was a bluegill to complete a sort of fishing "Grand Slam" and our wish was granted, making for a perfect time to call it a night.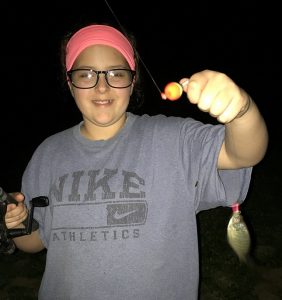 Carly completes her Grand Slam with a green sunfish and buzzer beater bluegill, great job!
The next morning the boys each got a boat ride while Carly took another shot from the bank.  She likely outfished us boys as we were pestered by some mighty small bluegill that just stole our waxworms as most didn't have a mouth near big enough to take even our small jigheads.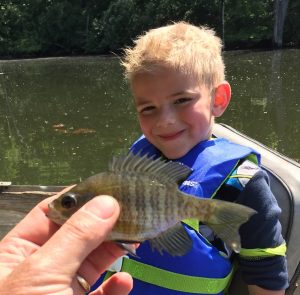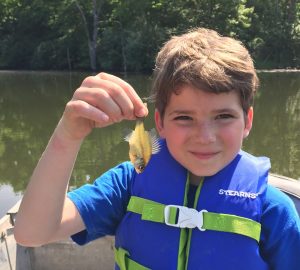 The boys getting it done in the boat.  I swear Jayce's catch was so small and thin you could nearly see through it.
As always, plenty of fish and a good time had by all except the waxworms.  Another fishing report up tomorrow, some larger fish and a larger angler, who is not near as attractive as this bunch who thankfully got some looks from their mama.  Talk to you later.  Troy