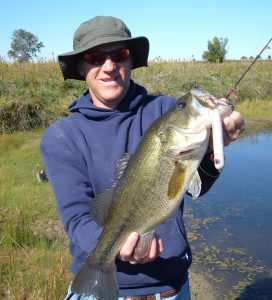 I started writing fish stories on a whim close to sixteen years ago and this submission brings my "career" total to 1,166 postings. That's a lot of words and pictures, and a lot of time. Especially considering it's not a paying gig beyond a $50 check I received once upon a time for my contributions at another website. But I knew that going in and I'm good with that, just like to write about enjoying the outdoors with family and friends.
What I did not foresee were several instances of a bonus sort of windfall, one of which is hanging from the lip of the bass in today's blog banner photo.
K9 Walker Stickbait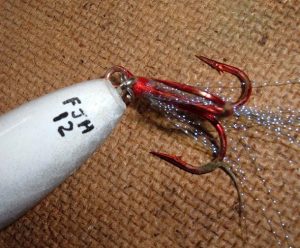 This bass came from some Knox County, IL public walk-in strip mine ground in September 2013 on a homemade topwater bait. The bait, called the K9 Walker, was fashioned by a fellow from East Central Illinois who followed my blog on another website. A cool gift that I initially put to use in the spring of 2013 fooling several bass as pictured below.
5/27/13 First K9 Walker bass from a formerly unnamed lake now called "K9 Lake"
6/7/13 A fun "double" on the K9 Walker as both fish came on one cast of the bait
The September fish that is the subject of today's blog banner pic was the second of a pair of four-pound fish that I caught on the outing from a then nameless remote pothole in the span of fifteen minutes. Since the designation of "K9 Lake" had already been assigned as noted in one of the above pictures, I took to calling this spot "2×4 Lake" in honor of the four-pound pair (the first four-pound bass fell to a Smithwick Suspending Rogue jerkbait).
One other note on today's pic is the fact that the pothole cranked out another four-pounder in 2014 on a jig and pig. However, it will continue to be referred to as 2×4 Lake in honor of the fish story resulting from the second big bite of that September day courtesy of the K9 Walker (thanks, Frank, if you're out there reading).
Besides, "3×4 Lake" sounds weird. Talk to you later. Troy