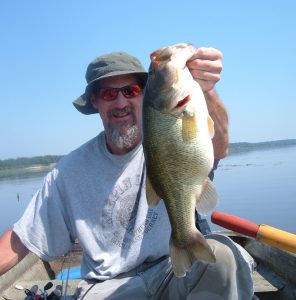 Did I ever tell you about a place called Emiquon?
Why, of course, I did.
In fact, a couple other Blog Banner pictures have featured fish and data from the interesting and productive fishing hole. I've got nothing firsthand to report from the last several years but reliable sources indicate that there's still plenty of  bass down there.  Just a little tougher to find and fool.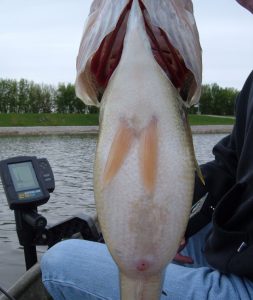 Since this posting is headed towards a look at bass "guts", here's a different example of a stocky, well-fed Emiquon resident
Back in the days when I visited Emiquon (2009-2013) it produced an amazing combination of quantity and quality. The bass featured today was landed in July 2012 and came on a day when I had to work for the quantity aspect although a 23 bass day on most public waters is pretty solid in my book. Quality, however, never faltered on any of my outings down there and this day was no exception as 22 of the 23 bass measured 13" or better. That's a 96% "keeper" rate with my definition of "keeper" being 12" or better (only a categorical label as all are released). Folks, that's just crazy and the lone "short" fish came in at 11".
But today's featured fish was something else altogether. The picture does a good job of accentuating it's build but in person it truly looked freakish, in a good way. This catch only measured 18" in length but tipped the scales at a whopping 4-11. By comparison, the weights of all other 18" bass in my database (37 bass) range from 2-3 to 3-8 with an average weight of 2-13, nearly two pounds lighter than this beast. The dozen bass in the database whose weights range from 4-9 to 4-13 measure from 20" to 22" (see comparison below).
August 11, 2003 at 4-13 and 21.5″ in length, Knox County, IL strip mine
Another shot of "The Pig" at 4-11 and only 18″ in length
In addition, the fish below was the runner-up on the day at 2-8. And it measured 17.5" in length. Yep, only a half inch shorter but over two pounds lighter. A solid fish in its own right but not even close, just plain weird.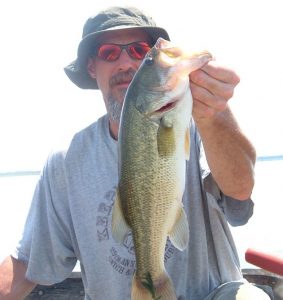 Healthy runner up to "The Pig" at 17.5″ and 2-8 but really no comparison in build
So weird, in fact, that this is the only fish that I have ever caught that was given a nickname, hence the title of this posting referring to "The Pig." Here's an excerpt from the original fishing report that I submitted back on July 17, 2012 that describes the origin of the nickname.
"The fish pictured above (couldn't help but use two pictures for this freak) grabbed my Red Eye Shad as it blazed along the outside of a ditch between some deeper tree tops and the shallower weed edge. My first glimpse of the football had me talking aloud in saying, 'Man, that's a good one.' Just like my crankbait, the Boga Grip found its mark on a lip and I brought my trophy aboard still talking to myself stating, 'Oh, that's a pig' in a sincere and excited complimentary fashion. In fact, I was so enthused that I even gave a fist pump as I put down my rod. I can't imagine the feeling of fooling a good one ever getting old. Equally as fulfilling was watching it swim away after posing for a couple pictures with its biggest fan."
And still a fan to this day. No doubt that it belonged when selecting pictures for the visual introduction to an outdoor website like no other. Talk to you later. Troy