My boy, Jayce, has been itching to go fishing since last year but our latest plans have been foiled by the topsy turvy nature of Mother Nature. First up was a cancelled icefishing outing two weekends ago as the ice deteriorated to unsafe conditions. Then last weekend ended just a day before some balmy February temps rolled in.
Well, with one sister spending an overnight at Gramaw and Papa's and the other sister on a shopping trip with Mom and a friend, it was on for some father-sons time. Today was forecast for 50 degrees and hit the mark late afternoon so me, Jayce and Zac decided to use our guy time to hit a local pond. Here's some pics and notes on how it all went down.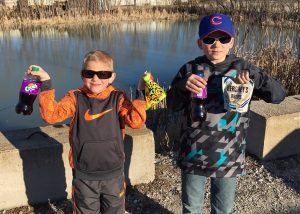 Probably should know better, but these guys are pretty convincing
Preparations and Provisions – Before we hit the water we had to grab some waxworms and replenish the split shot that I could not find in our tackle. Oh yeah, that also turned into a couple grape sodas, a batch of Sour Patch Kids and a bag of Hershey's Cookies and Cream Drops (some of both of these items later became fish food when tossed into the fishing hole). In addition, we spotted some discounted fishing shades on the rack so both of these guys now look like cooler fishermen.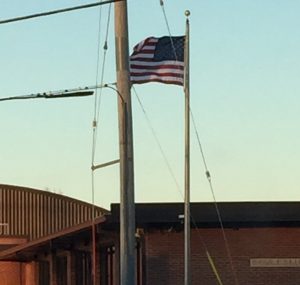 "Wind from the east, fish bite the least" proved true on this day
Fishing Lessons – I got to impart some fishing knowledge as a dad is prone to do, actually expected to do.  We learned that the old adage "wind from the east, fish bite the least" was right on target for this outing.  I also pointed out what has long been a sound that is synonymous with fishing as we identified the call of the red-winged blackbird (boys also left them some Sour Patch morsels).  Not anything uncommon or generally worth even a passing glance to most but a very significant bird to me, my brother and Dad as an integral part of the soundtrack of strip mine and farm pond fishing.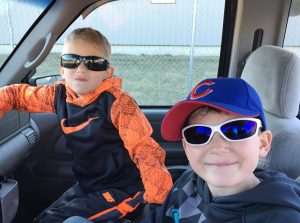 Rockin', rollin' and fishin'
Trip Tunes – Of course, we had to jam to the radio on the ride and I had the boys singing the old Foghat tune "Slow Ride" to kick off the trip. Unfortunately, they later made me stop at that Chumbawamba piece entitled "Tubthumping" as we scanned the presets. I pondered if a drinking song was appropriate but then figured that they had no clue, anyway. And, after all, my Foghat cut ain't exactly about a Sunday drive. Later, "Mr. Brownstone" (the clean version) by Guns N Roses and AC/DCs "Thunderstruck" graced the airwaves with a couple oblivious, smaller versions of me just rocking out, clueless of the lyrical content.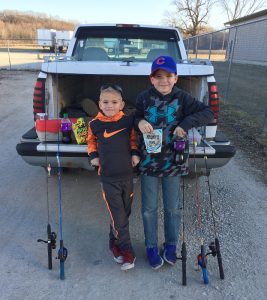 My fishing buddies
Quotes
Jayce on our prospects in the cold murky water: "We'll probably just catch moss and crap."
Zac when messing with how much force he could exert on the digital scale: "Whoa, I pulled it to 9 pounds 19 ounces!"
With shade, wind and sunset moving in, I told the boys that my fingers were getting cold so time to pack it up. Jayce replied, "Yeah, I can't feel mine either." I was proud of the guys as they were too busy having fun to worry about numbness.
That first quote from Jayce pretty much summed it up and I can't say that I was the least bit surprised. After all, it's early March and the water had a murky off colored look, can't imagine the fish were real fired up at this point. So, it was off on a run to the border for some takeout grub since we had no fish to fill our bellies.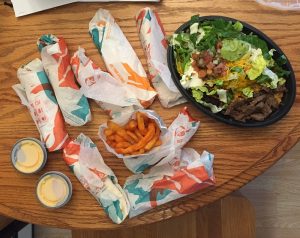 Refueling after some fresh air with eight cheesy rollups, nacho fries and some kind of bowl
As you can see, even without a bite, these young boys and their not so young fishing guide always know how to have a good time. Talk to you later. Troy