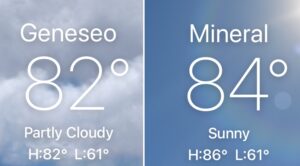 A Father's Day weekend camping trip along The Canal offered an opportunity to get the family out for a couple hikes on Friday and Saturday evenings in search of some bites. It turns out that we had such a good time that we went exploring one more time on Sunday evening after wrapping up our camping trip. Read on for the stats, notes, and video.
June 17 evening outing with the boys
Stats
Date: June 16-18
Location: Hennepin Canal
Time: 5.50 hours total
Totals: 13 bass, 24 panfish (22 bluegill, 1 pumpkinseed, 1 warmouth)
Weather: Sunny/breezy, 64-82F
Lures: Bass – Senko/Yum Dinger wacky rig, Panfish – waxworms on jighead and slip bobber
Top Bass: 2-13 Senko (Carly)
Top 5 Weight: 6-13 (2-13,1-3,1-2,0-14,0-13)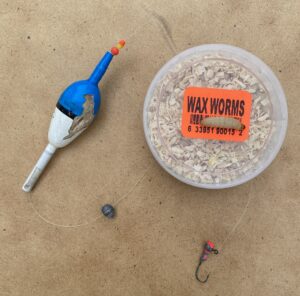 Waxworms on a slip bobber setup is a favorite panfish rig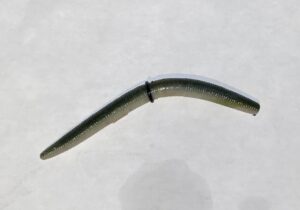 Wacky rigged worms are a great fit for young (and not so young) anglers
Family Top 5 and totals from the weekend
Notes and Nonsense
Field Testing – If you are introducing kids to bass fishing, it is hard to beat a wacky rigged worm once the water warms up. It is easy to cast on a spinning setup, has only one hook, requires minimal retrieve action, and flat out catches fish. I favor the 5" Yamamoto Senko but also opted for some Yum Dingers for the kids as they are cheaper, and I anticipated a few presentations ending up in trees or not coming back from various underwater obstructions. The Yum Dingers did just fine.
June 17 family fishing evening
Restock – After a Saturday evening trip resulted in a couple lost Senko setups, I found that I needed to replenish my hooks. Prior to our Sunday evening trip, I grabbed another pack of fifteen hooks from a local fishing aisle. Well, by the end of our Sunday evening, many of those new hooks had also been "donated" to The Canal. A learning experience and good practice as prowling the banks of The Canal can present some casting and retrieving challenges.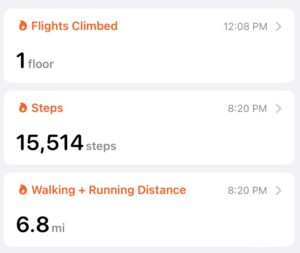 Advanced "scouting" and playing fishing guide can be workout.
Exercise – As noted in the screenshot above, I got a workout on Sunday. Early morning was a solo walk on The Canal followed by more steps as we packed up at the campsite. Next was a walk through the local fishing aisle in search of more hooks and some Yum Dingers. Finally, I played fishing guide on our evening stop along The Canal. Those final couple hours featured numerous steps between the five anglers dishing out waxworms, assisting with an occasional cast or advice, retying after snags, logging catches, shooting pictures/video, and other associated tasks. I never reeled in a fish or even made a cast of my own and that was just fine.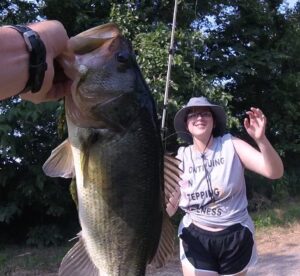 Screenshot from Carly's Top Bass catch (2-13). Negotiations are ongoing on whether she will let me post the full video…
Wrap-up – Everyone landed a handful of fish over the course of the weekend. Helena got us started with the first catches on both Saturday and Sunday. Carly was the Bassmaster on Saturday with five catches and Top Bass of the trip. Jayce posted a Top 5 bass among his catches. Zac also posted a Top 5 bass and tied Carly for the species title at three. Mom also posted a Top 5 catch along with several panfish while being part-time guide and pointing me to a couple bass that she saw or heard near her fishing spot.
June 18 family fishing evening
The Father's Day weekend fishing adventure drew to a close as dusk approached on Sunday. But family time continued with a silly ride, Casey's pizza pickup on the way home, and opening some gifts. It was a great weekend that kicked off with camping and some casting on Friday around 4:00pm and concluded with those final slices of pizza near 10:00pm on Sunday. And the cool thing was that everybody was still laughing and getting along after hanging out all weekend. As a dad, I couldn't ask for more. Talk to you later. Troy