Okay, for starters, today's title borrows a snip of lyrics from The Trammps hit "Disco Inferno" which reached #11 back in 1978. And, believe it or not, there will be another reference to this cut later this week. Seriously folks, you can't get this sort of content anywhere else on the web, so stay tuned.
But first…
My initial 2018 visit to some public, walk-in Knox County, IL strip mines was a real eye opener and a sight for sore eyes that went a long way towards easing some sore legs. I've racked up a lot of miles (and a lot of bass) since 2013 when I began fishing this area and up until this year the terrain was dominated by a tangle of vegetation. In the Spring it consisted of the dead webbed over grass and thistles that hid the ruts and gullies and required a great deal of high stepping to avoid a tumble. Later in the year, it was grass taller than your head making for an exhausting wade from fishing hole to fishing hole.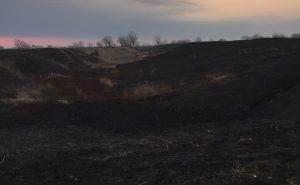 So cool to see a landscape devoid of vegetation, a winning trip before I ever got a bite.
So, I can't truly express how grateful I was to see a completely charred landscape spread out before me as I pulled into one of the parking lots a couple weeks ago. The best I can do to convey my gratitude is today's collection of pics and a video regarding the first burn I have encountered at this particular stomping ground.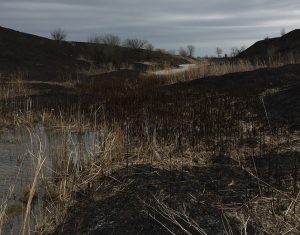 Trudged along this route in 2017 and swore I'd not do it again.  Also swore, like bad words and all, along with breaking a pole.  What a mess back then but a piece of cake now.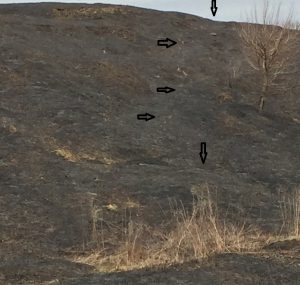 This was kind of fun as I could see my footprints in the soot after I descended this substantial spoilbank.  Would never have dreamed of taking this route in the past but likely saves over a mile of roundabout walking in navigating a cut that bisects the area.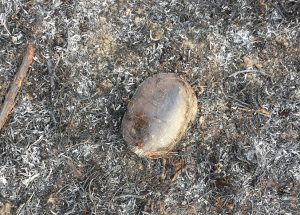 This turtle was a casualty of the burn as were several young bunnies (skipped the pic on that one), couldn't help but think of that old tortoise and hare tale, didn't work out for either species.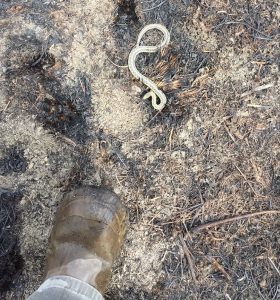 Saw four of these residents as that old black soot had to heat things up a bit and get these critters moving.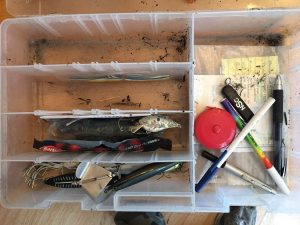 A windy day on the burnt terrain sure made a mess of my tackleboxes.  And my eyes, and my sinuses, and my hands…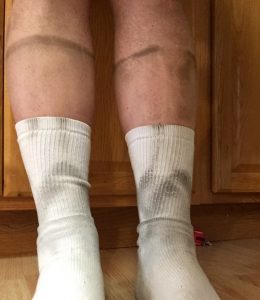 And my 50 year old legs that were sooty clear up above the knee.  Not near as sore as normal though so it's all good.
Before I sign off, here's one last bit of media from the GoPro that I found kind of fun to put together.
Many thanks to those who participated in the burn as I am ever so grateful for the ease of access it has afforded in 2018. Two trips encompassing 8.9 miles, 25,148 steps and 38 floors according to my Health App have produced 92 bass, and better yet, limited sore muscles. Talk to you later. Troy