Got a chance to fish with my brother, Brent, for the first time this year. It pretty much happened on a whim as I was on my way out of the driveway when I thought that I would shoot him a text to see if he was free. He was and I had a partner for a walk across some public Knox County, IL strip mine land.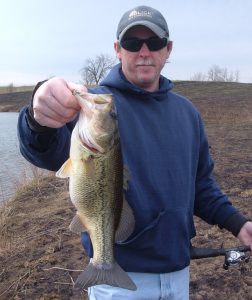 10:23am Brent wastes little time in kicking off his 2018 Top 5 with a 1-9 on a spinnerbait
Stats
Date: April 21, 2018
Location: Knox County, IL public, walk-in strip pits
Time: 8:30am-3:30pm (5.50 hours fishing, the rest walking)
Weather: Overcast/windy
Air Temp: 48F-59F
Totals: 32 bass (Troy = 18, Brent = 14)
Lures Troy
Booyah Blade Spinnerbait (white chartreuse) – 10 bass
Strike King KVD 2.5 Rattling Squarebill crankbait (sexy shad) – 4 bass
Strike King Red Eye Shad (sexy shad) – 3 bass
Senko weighted wacky rig (morning dawn) – 1 bass
Lures Brent
Spinnerbait, jig & plastic, Mann's Baby 1- crankbait (several colors)
Top Bass: 2-12 Brent Jig
Top 5 Weight: 10-11 (2-12,2-10,1-14,1-12,1-11)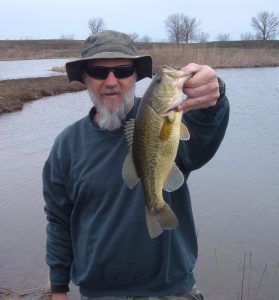 10:31am Brent's grip on Top Bass was short lived, booted by my 1-12 on a spinnerbait
Notes and Nonsense
Save the Best for First – I hit the area about an hour and a half ahead of Brent as he had some items to take care ahead of the impromptu outing. I used the time to hike across to where he would park and then invest some casts in testing a body of water that I don't typically fish. Four small bass gave me head start and wound up being what separated our totals as we each fooled 14 bass while fishing together. I elected to save my best spot until Brent showed up and in our first 25 minutes of casting on it we nabbed four of our overall Top 5 fish including his 2-12 Top Bass of the trip.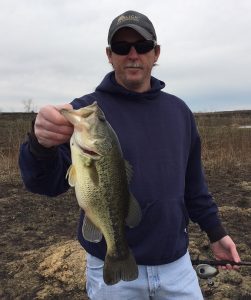 10:37am Brent's back on top to stay for Top Bass with a 2-10 on a jig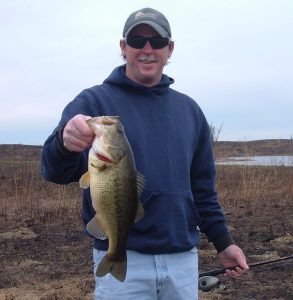 10:48am Brent with another boost to 2-12 on a jig and would last as Top Bass
Top Bass – Things were fast and furious right out of the gate in our pursuit for the Top Bass title for the day.  We began our joint effort at 10:20am and Brent got us on the board with the first "keeper" weighing in at 1-9 at 10:23am.  At 10:31 I snatched the title away with a 1-12 only to be outdone six minutes later by Brent's 2-10.  I got a quality fish at 10:40am with a 1-11 (well short of the new mark) but it was Brent's 2-12 at 10:48am that would claim the title.  It was a crazy flurry of bites that we could not replicate or exceed over the next five hours of casting on half a dozen other spots.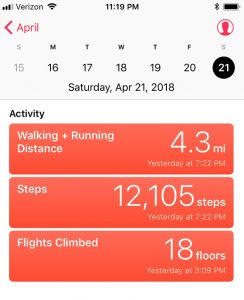 One of the reasons I frequently fish solo as I averaged roughly one bass per quarter mile of hiking
Approaches – I fish solo a great deal for various reasons (another post, some other day) but when teaming up for bass fishing I'd have to say that Brent or Dad are tops on the list.  In regards to this trip with Brent, it reinforced the confidence factor in our shared hobby.  Brent does his thing with his favorite baits and I do mine with my go to baits.  His spinnerbait offering was brown/orange while mine was white/chartreuse, both were successful.  He whacked 'em on a black and blue jig with a plastic trailer (pumpkinseed) while I never got a bite on a black and blue jig and pig.  He fooled only a few on a bright orange/red crankbait while light colored crankbaits produced nearly half of my haul.  Way too much to analyze as bass anglers are wont to do, but here's what's cool.  We both fished our strengths, some of which produced better than others, and in the end we wound up with exactly fourteen bass apiece during our time fishing together.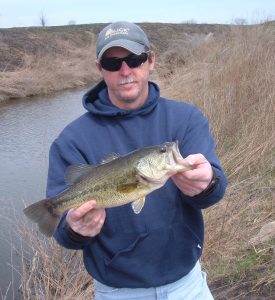 11:45am Brent's 1-14, the lone member of our Top 5 that came from beyond our best lake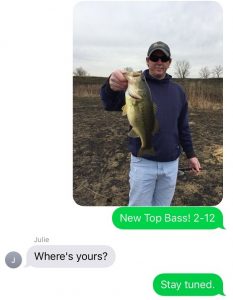 I find it fun to keep Julie up to speed and my optimistic "Stay tuned" wound up being the next day so stay tuned for another report
Another enjoyable day of trying to fool some fish and another batch of stories to add to an already expansive collection.  I'd have to estimate that we have somewhere in the neighborhood of 70 combined years of trying to figure out these crazy green fish they call the largemouth bass.  In doing another piece of mental math as I thought back over our "experience", I realized that come next February we will combine to hit the century mark in life experience.  Pretty wild.  Talk to you later.  Troy