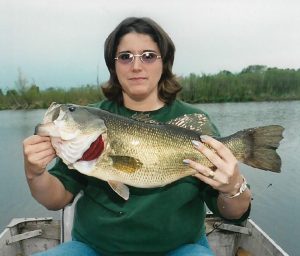 Well, 15 years ago this week I took my wife, Julie, fishing at an old fishing hole we called Emstrom's Pond. Emstrom's has already been featured in three of the Friday Flashbacks but, hey, it was stellar fishing spot as evidenced by this pair of fishing pics. Of course, it helped that it was only minutes away from our home at the time so it was a perfect destination when time was limited. And thinking back to 2003 with no children yet in our life, I'd have to say that we really had no clue on how the concept of "free time" would forever change.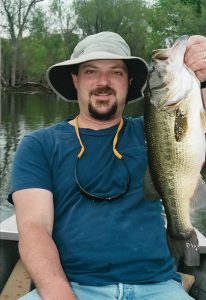 Here's an excerpt from the original report that I submitted to family and friends back on 5/9/2003 regarding this outing that tells the whole story behind the 10+ pounds of bass in the pics above.
May 6 – After giving the fish a few days off, I took Julie fishing at Emstrom's. I joke about not taking someone fishing again if they outfish me, but here's proof that I'm only kidding as Julie outdid me, two bass to zero a few years back at Lake Carlton. Anyway, we only had an hour on the pond but it was well worth the trip. The new 2003 largemouth bass record stands at 5-5 after I worked over The Beaver Lodge with my 1/4 oz. Strike King Rattlin' Jig (black/blue) with a #11G pork frog (blue glitter). Measuring 23″ in length, it is the longest bass I've ever caught despite being several ounces shy of my heaviest (5-15), a great, healthy looking fish. Julie even took up my offer to hold it for a picture. We played the customary "guess how big the bass is" game. The first bass I caught, I guessed at 1-2 and Julie opted not to guess, stating that she had no idea of a reasonable estimate. The fish weighed in at 1-3. Upon catching "the big one", we tried again. My guess, 5-12, Julie's guess, 5-6. I was very impressed, not only because she was an ounce off, but also, more importantly, she guessed heavy. The mark of a true fisherman (woman), overestimate the weight. We also played "guess the water temperature", yet another example of silliness. Julie promptly stuck her finger in the water and guessed 68 degrees while my estimate was 63 degrees. Actual temp, 67 degrees. We also managed 13 bluegills on 1/8 or 1/16 oz. jigs (pink) with twister tails (smoke) with and without spinners (silver).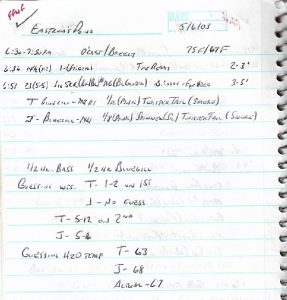 So, there you have it, the real tale behind two pictures but only one fish.  I would definitely say that Julie's shot is the more attractive of the two. Not only for obvious reasons but also because it just appears more dynamic with the gills flared and a broader depth on the fish.  What's also fun is that you could definitely pull this one off as two different fish due to the lighting and angle of the shots if you wanted to pull somebody's leg or stretch the truth a bit.  Not here though, as while I do use multiple shots of the same fish for a few different postings (Facebook, Top 5 Update, fishing report), the data is consistent to emphasize that it is the same fish.  Yep, there are still a few places where you can believe what you see and read on the internet.
And once again, I have to say that writing has been an outstanding addition to the whole fishing experience as it preserves details that would otherwise be lost over time. In this case, the guessing game on weight and water temperature. Just a couple examples of goofy things employed over the years to enhance the adventure.
And speaking of that sort of thing, stay tuned for a new bit of family fishing fun slated to make its debut sometime this spring. Inspired by some college football hijinks that I caught wind of last season, I think it will be an entertaining bit of silliness. Of course, I have little trouble entertaining myself so we'll see how it translates to others. Talk to you later. Troy