"TJ" with a 1988 bass from "The Ponderosa"
Always fun to reminisce about fishing holes from the past and Ponder's Pond was a winner. Nicknamed "The Ponderosa" and located north of Knoxville, Illinois, it was a regular stop for a group of fishing buddies back in the late 80's.
The friend who gained us access and clued us in to the pond's nickname was generally referred to by a nickname or two himself. "Hack" or "Hacksaw" grew up in Knoxville and had connections with the family who owned the farm pond and the Ponder's were kind enough to let some college boys test their waters. That buddy's given name is Matt Reynolds but we still refer to him as "Hack." In fact, I just did so last weekend when getting to visit for the first time in a few years.
But the nicknames don't stop there as we also made a few casts at the location with a batch of anglers also known as "Geek", "Swerve" and "Catfish/Catdaddy." In real life these guys are actually named Mark Junk, Mick Swanson and Jim Hunter (fitting nickname for that fella, huh?).

Snips from the original 1988 log entry 
And the weapon of choice on today's featured outing, designated in the log entry above as Zara Spook (frog) was affectionately nicknamed "The Pickle." Well, "The Pickle" knocked 'em pretty good on this day with three of the four bass coming in from 17-20.5" and weighing 2-2, 2-13 and 3-12.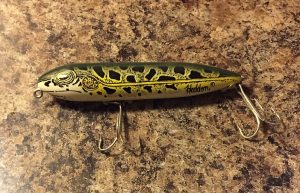 The original "The Pickle" or two are long gone but picked up this one for old time's sake last year
Another aspect of these trips that added to the adventure and enjoyment was the fact that our route to the fishing hole went right by a watering hole. Which, of course, had a nickname. The East End tavern on the outskirts of Knoxville was also referred to as "The Old Double Eagle."
While partaking of more than a few of the bar's beverages, typically "The Beast" or some "Beast Light", we'd usually cross paths with some of the regulars that "Hack" knew, including "Fast Eddie" and "Two Speed." And when another buddy, John Junk, was along for the adventure one of the bartenders would simply refer to him as "The Big Guy." Of course, there was also "The Little Guy", yours truly (aka "TJ"), who still is considerably shorter than John.
Ah yes, the good, old days of fishing, drinking, darts, pool, country music on the jukebox…fun to reminisce. Haven't picked up a pool cue or dart for many years but still enjoy an old country tune from time to time. And 30 years later, I'd like to think that I'm a better fisherman these days and not ashamed to say, a worse drinker. Just can't hang like that 21-year old kid. Honestly, don't even want to try. Talk to you later. Troy