You know, I could probably write all day about the five hour trip I enjoyed with my boy, Jayce, back on Cinco de Mayo. Stats, pics and video of his catches have already graced the blog and the Troy Jackson Outdoors Facebook page. But those items only tell part of the story as a fishing trip is always about more than the fish.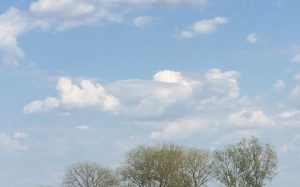 Cloudy Imagination – As we made the ten minute stroll to the fishing hole, Jayce said, "Hey, Dad check out that cloud!" Well, there were plenty of scattered clouds so I told him that I wasn't quite sure exactly where to look. So, he points and adds "that one over there that looks like a penguin with Mickey Mouse gloves and a mustache." Oh, that one. Pretty obvious to one of us at least and I'll leave it to you to let your imagination do its thing with the actual shot above.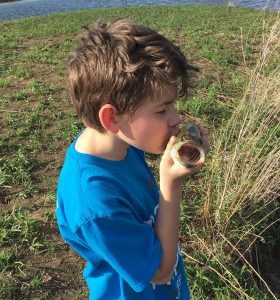 Jimmy Who? – Jayce doesn't have the slightest idea who Jimmy Houston is and for anyone else out there who is not familiar here's a brief bio. Houston is a bass fishing legend and Fishing Hall of Famer who had a successful career as a tournament angler and parlayed that success into a long running outdoor television program. An entertaining and enthusiastic fellow, one of his trademarks was kissing bass. So, when Jayce pulled this stunt on our trip I had to laugh and applaud his appreciation of the catch. I think I'll stick to a pic and standard release, however.
Gnats and Worms and Jayce, Oh My! – The video above demonstrates that Jayce still had plenty left in the tank for the three quarter mile walk back to the truck at the end of our day. His gyrations did have a purpose beyond being goofy as the gnats had gotten out of control. The bag he is wielding contained our bait (waxworms) so those larvae that eluded being fed to a fish sure wound up with a wild ride as evidenced by the pic below.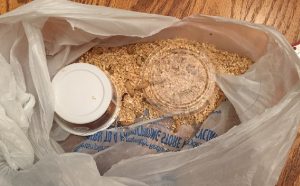 Favorite Quote – Although there were plenty of choices for this one, I'd have to say that, "Dad, I like your laugh" was the best of the bunch. It's always interesting to relive an adventure via GoPro or iPhone video after returning home and it still kind of strikes me as a bit goofy when hearing/seeing yourself on audio/video. Completely unscripted, unlike the big boys in the world of media content creation, just a guy and his kid going fishing. So when your kid comments on the way you express your enjoyment of a shared adventure it's priceless. I suppose someday, more than a few years from now, he will come to appreciate all that lies underneath that involuntary reaction to some quality father-son time.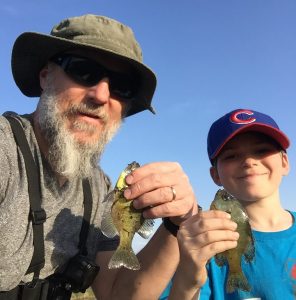 Always entertaining, enlightening and unpredictable when you get kids out chasing some fish. Then again, that's just plain fishing, big kid or little kid. And no better place than the outdoors for some bonding and a chance to leave the modern, technological world behind. Well, except for a cell phone and a GoPro. But those contradictions are fodder for another day. Talk to you later. Troy