I'm going to push my luck with today's Flashback as even the abridged version of this posting from 2008 remains a little lengthy. But a great day on the water just makes it tough to pare it down so here we go.
Dad and I hit Lake Bracken on June 16th, the day after Father's Day, for our first fishing trip together of 2008. The weather had been fairly stable and the bass were through spawning so I figured that I might as well compile another "Day on the Lake" feature. As a refresher, our DOTL adventures involve photographing each bass that we land along with recording time, length, lure and weight (if applicable). The article then consists of a chronological account of our day, statistics and anecdotes concerning what actually goes on when we share several hours on the water. So, everyone hop aboard for a belated Father's Day version of "Day on the Lake with the Dads."
5:27 am – Armed with over a dozen poles, a hefty amount of tackle, a digital camera, a fishing log and several new weapons courtesy of Father's Day, we launch the boat.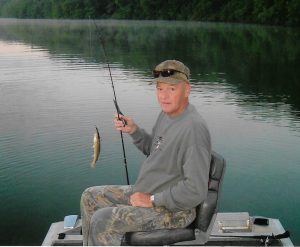 Bass #1 – 5:39am leaves room for improvement (details below, same for the pics and times that follow)
5:39 am – Dad lands our first bass, an 8" on a Bomber Flat A crankbait along Ramp Road. The once reliable area fails to produce another bite so we elect to motor up lake.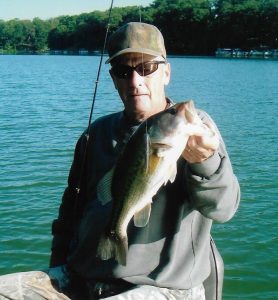 Bass #8 – 7:45am 2-13 Senko
7:45 am – Dad tops off a string of four straight with a hefty 2-13 on his Senko wacky rig in Shed Cove. It's his fifth Senko bass of the morning and it seems that I might have done well with my selection of Baitmate Max Fish Attractant in the garlic and salt flavor for his Father's Day gift. He's begun coating the lure with the attractant and it sure seems to be working. Our three fish weight now stands at 4-11.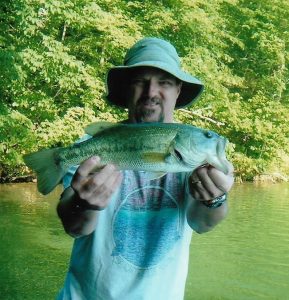 Bass #9 – 7:48am 2-0 Baby Brush Hog
7:48 am – I follow suit by asking for a shot of the juice on my Baby Brush Hog (Alabama craw). My next cast to a fallen tree results in a 2-0, bumping our make believe tourney totals to four bass weighing 6-11.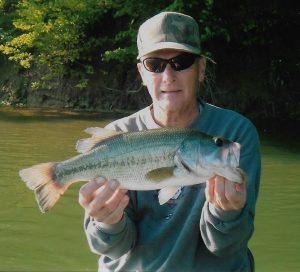 Bass #11  – 8:00am 3-5 Senko
8:00 am – We're still on a roll, still in the cove and rapidly buying into the spray on fish attractant thing as Dad lands a 3-5. Once again the Senko does the trick and establishes a new Top Bass for 2008. The fish fills our six bass tourney limit and pushes our weight to 10-15. Were we truly fishing a tournament, it would be a great relief to have our limit by 8:00 am so we could begin to work on weeding out the smaller fish and increasing our weight.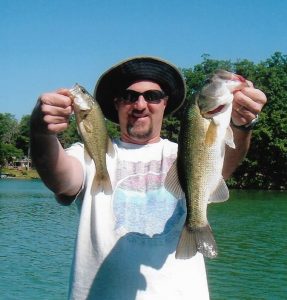 Bass #28 (along with short Bass #27) – 10:00am 2-9 Baby Brush Hog
10:00 am – My 2-9 from some trees on Sunset View Point replaces a 0-15 and bumps our weight up to 13-9. The fish comes on a Texas rigged Zoom Baby Brush Hog (Alabama craw).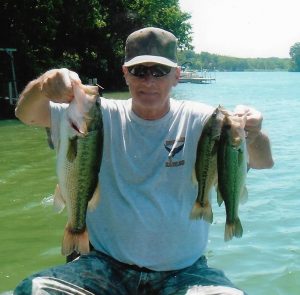 Bass #35 (and a couple companions) – 11:21am 3-7 Senko
11:21 am – Following a pair of fourteen ounce bass that no longer meet the minimum for our six fish limit, Dad bests the 2008 Top Bass for the second time today with a 3-7. After a well-placed cast near a crumbling dock on Brock's Point, Dad actually witnesses the bass engulfing his bait. His latest lunker bumps out a 1-14 bringing our weight to 15-15.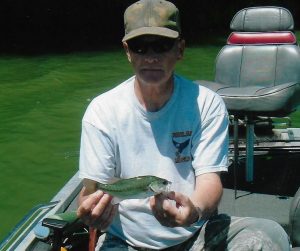 Bass #38  11:37am the last of a stellar day
11:37 am – Our final catch of the day is a short fish by Dad on the Senko, of course. This completes a string of six straight bass putting an exclamation point on an outstanding day as he easily doubles my catch.
Statistics
Location: Lake Bracken
Time: 5:30 am-12:00pm
Totals: 38 bass (Dad-26 Troy-12) and 4 bluegill
Bass under 12" – 21
Bass 12" or above – 17
Lures: Senko – 24 Baby Brush Hog – 7 Dropshot rig – 4 Baby 1- 1 Bomber Flat A – 1 Zara Spook – 1
Streaks: Dad 6 straight bass 11:06am-11:37am
Troy 2 straight (twice)
Droughts: Dad – 48 minutes 6:19am-7:07am
Troy – 62 minutes 6:04am-7:06am
Record Book Entries: Dad (3-7, 3-5, 2-13, 1-14)
Troy (2-9, 2-0, 1-13)
Total Weight (top six bass): 15-15

Entire original log entry from the outing
Notes
Hotspots – Shed Cove is a small pocket that features a fallen tree on the west point, a pair of stumps along the eastern bank (if you know where to look) and a sharp dropoff on the west point; plenty of appeal, and on this date, plenty of bass. From 7:31am until 8:00am, we hauled in five bass (Dad caught four of these) with all coming in at 12" or greater and a combined weight of 9-15 (0-14, 2-13, 2-0, 0-15 and 3-5 in chronological order). A couple trees on Sunset View Point also produced well as we landed six bass between 9:47 am and 10:00 am including a 2-9. Only one came on the Senko as this turned out to be the only spot on the lake where it was out produced as the Baby Brush Hog or dropshot rig were the lures of choice.
I'm A Believer – As noted previously, part of the Father's Day gift pack for Dad was a bottle of Baitmate Max Fish Attractant. Its appeal turned out to be one of the top stories of the day, perhaps even adding to the already impressive production of the Senko wacky rig. Dad employed the spray frequently and was rewarded with a hefty creel, both in quantity and quality. I was convinced of the juice's effectiveness as well by an incident in Shed Cove. Upon observing Dad's success with the liquid, I asked for a dose on my Baby Brush Hog stating, "I haven't had a bite on this lure yet." After firing a cast to a fallen tree, my next words were, "You've got to be kidding" as I set the hook on what turned out to be a 2-0 bass. I have yet to pick up a bottle for myself but as a reminder my birthday is July 23rd.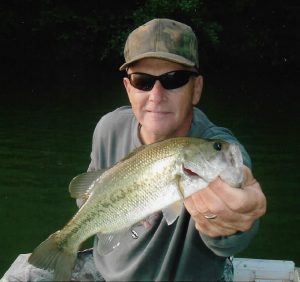 Taking a pic of every bass leads to a little goofing off to provide something extra for the run of the mill fish.  This is what I call a "Magazine Pic" where you hold the catch as far as your arm can reach towards the camera. (Note: not a fan, this is truly a tongue in cheek shot enhanced by the grin on the guy holding the fish)
That wasn't so bad now was it? As my blogging approach has evolved over the years I have tried to pare my postings down or break up what used to be one posting into a series of submissions. Not only do I feel that it helps me to maintain a steady stream of posts but I also feel that it is not quite as daunting to any readers who tune in as the human attention span just ain't what it used to be.
And with that, I'm gone. Talk to you later (with some tunes). Troy