Revisited some old stomping grounds with an approach I call "bike and hike" which dates back several decades. Still going almost as strong in my fifties with the scoop on the trip below.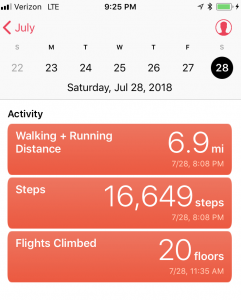 Folks, I ain't exercising so this is pretty much all fishing related data, kinda dumb for seven bass but you never know and I still keep pulling this stunt a few times a year.
Stats
Date: July 28, 2018
Location: Knox County strip mines (5 lakes)
Time: 6:15am-11:20am (3.0 hours fishing, the rest bike and hike)
Weather: Sunny to partly cloudy/calm to breezy
Air Temp: 56-79F
Totals: 7 bass
Lures
Senko wacky rig (pumpkin/black flake) – 5 bass
Booyah Buzzbait (snow white shad) – 1 bass
Strike King Red Eye Shad (sexy shad) – 1 bass
Top Bass: 1-4 Red Eye Shad
Top 5 Weight (only 3 at 12" or better): 3-5 (1-4,1-1,1-0)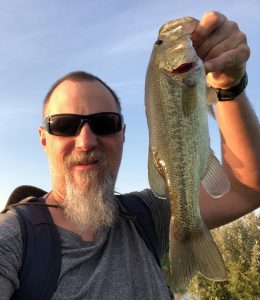 6:24am First Bass 13.5″ 1-1 Buzzbait, it was a long time and several miles until Second Bass showed up
Notes and Nonsense
Saturated – While the height of the weeds at this location was more navigable than another spot that I visit, they were still tall enough to exceed the tops of my boots. As a result, I was soaked to the middle of my thighs after wading in only a few yards. Throw in the fact that the Shoe Goo used this winter to repair several holes in my boots had succumbed to many miles of less than friendly terrain and I was in for several hours and several miles in soggy socks. Yes, not unexpected, I know the routine.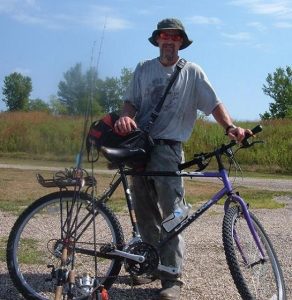 Ok, so this pic is actually from 2012 as I forgot to shoot a shot of the bike this time around.  I no longer look like I'm in the same shape as this photo.  But wait until next year…
Two Wheeling – Julie got my bicycle tuned up for my birthday last year as it was looking and sounding a little rough after many years of strip pit off roading. Twelve months later, I figured it was high time to drag it up from the basement where it was attached to a stationary frame that Julie got me last Christmas that I have also failed to put to use. Once I got it out on the strip mines, however, it was just like (you guessed it) riding a bike. It is a nice time saver that cuts down the walking as I ride the roads into proximity of a fishing hole and then park it for the walk through the deeper weeds. Had a laugh on one spot this time around as I forgot where I parked my bike and wandered about like a shopping center parking lot. Found it about a hundred yards away.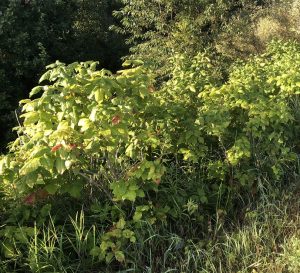 My nemesis is alive and well in Knox County, watch where you tread.
Hiker Beware – Definitely not my favorite member of the vegetative community but no doubt the most important one to recognize. Me and poison ivy have had a rocky relationship for as long as I can remember, including shots, prednisone prescriptions, medicated baths and plenty of calamine. I couldn't pass up the shot above of some serious specimens, dang near poison ivy "trees" that lay just off the beaten path, makes me itch just looking at the pics.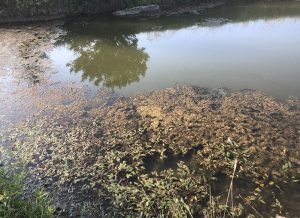 Water conditions just haven't been right this summer, taking a toll on at least one bass angler and providing an excuse for futility.
Oh Bad Water – I don't know what it's been with the summer weather conditions but nearly all of my strip mine waters just look nasty. Normally clean or green waters now have a brownish tint and the surface vegetation just doesn't look healthy, far from a vibrant green, either a nasty yellow or dying brown. I realize summer can be tough but I believe that these conditions have the bass in a funk and I'm right there with 'em.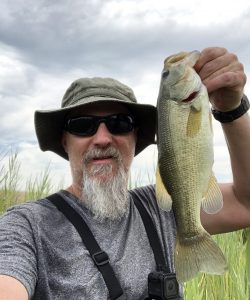 11:07am Top Bass 13″ 1-4 Red Eye Shad
Another less than impressive haul, kind of like a broken record for 2018. It is what it is and I pull no punches, you get a write up no matter the results. It's a pact I made with myself when I started doing this thing many years ago. Just tell it like it happened and leave it up to you on what to do with the mouse, touchpad or touch screen.
Did a piece for my birthday last month entitled "Thoughts at 51."  Well, the video below is an addendum to that post as I ponder how much I've got left in the tank for these adventures.
August is typically a rough month for fishing and writing with school and the related activities kicking into gear so may be a little lean. Still got a few things up my sleeve though and hey, more than enough archive posts for anyone to revisit as the website approaches 300 submissions. Talk to you later. Troy