The dog days of summer can present a challenge when trying to find some cooperative bass, particularly for a guy who has a tendency to stay shallow. In addition, I've long been addicted to warm weather topwater presentations so I often get stuck in that rut as well.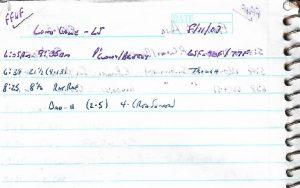 So, the following excerpt from a report submitted back on August 21, 2003 should serve as a lesson that I need to try a little something different every now and then.
August 11 – Dad and I fished at Little John from 6:00-9:30am and only boated four bass. Our only "keepers" were a pair of bass that weighed a total of 7-2. I posted a 4-13 while Dad caught a 2-5. My fish came on a jig (brown/orange glimmer) with a split double tail trailer (black) as I worked it through a saddle (a slight depression between a pair of points that run towards each other). Following a light tap, my line went a bit slack and I reeled the line up tight and felt the fish swimming towards me. Setting the hook, I knew I had a decent fish although I didn't envision a near five-pounder. Dad did an expert job on the dipnet as he nabbed the fish in mid-air following a spectacular jump at boatside. This bass made my personal Top 10 as the ninth largest bass I've ever caught. Dad caught his 2-5 on a Mann's 4- (red shiner) as he worked a trough between a mid-lake hump and a narrow finger.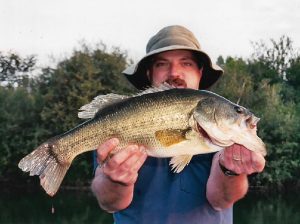 Hey, what do you know? A change in my approach actually worked, should try that more often, right? Well, still chucking buzzbaits longer than I should, seeking that one bite that will make your day, similar to today's flashback fish. Too much of a creature of habit in fishing and life and find myself more and more in the mindset of being "too old to change." Maybe next year, but probably said that fifteen years ago too. Talk to you later. Troy