How about nearly ten pounds of bass for our leader, Jim Junk, for this week's update? Already over the 20-pound mark, he cashes in on an early onset of a fall feeding frenzy to up his haul by nearly two pounds. Not an easy feat and even more impressive while doing the casting from the bank.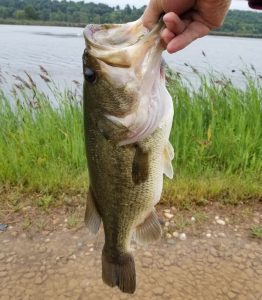 Weight: 4-9
Angler: Jim Junk
Date: September 6
Location: Banner Marsh
Lure: Senko wacky rig
Structure: Weed edge, stumps
Angler Comments: A couple hours fishing last night produced two smaller bass and this beautiful 4-9. He came out of a little highway that runs between bank weeds and some semi-submerged stumps that has been very productive this year.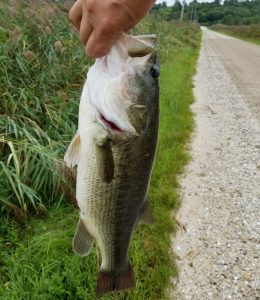 Weight: 5-2
Angler: Jim Junk
Date: September 8
Location: Banner Marsh
Lure: Texas rigged Senko
Structure: Weed bed
Angler Comments: Well, the extremely strong wind was both a curse and a blessing today. It was so strong that I could only fish banks with wind at my back. The areas that I intended to fish were futile and I was cursing the wind. Went to a bank that had been sporadic at best. Had produced fish before but no big ones. There was a lot of water though and with the wind at my back I was able to cast to places I had never been able to reach before. Went with a weightless Texas rigged Senko because there were semi-submerged weed beds mixed in open pockets of water. Fished for a couple hours and managed three solid 2 to 2.5 pound bass. Then I was reeling in another very long cast and was slowly working through a weed bed. Twitched off a small snag and felt pressure. Thought the hook had been exposed and caught more weeds. As I began to put more pressure on the line I felt a tug so set the hook. At this point I thought I had a nice fish and a lot of weeds. Had no idea that I had a real nice fish. Got him to the bank and landed with no problem.
Top 5 Weight: 22-1 (5-2,4-9,4-5,4-1,4-0) culls 3-15 and 3-14
Way to go Jim and thanks for a great start to September. Don't put those poles away quite yet folks as plenty of good fishing remains for 2018. Talk to you later. Troy